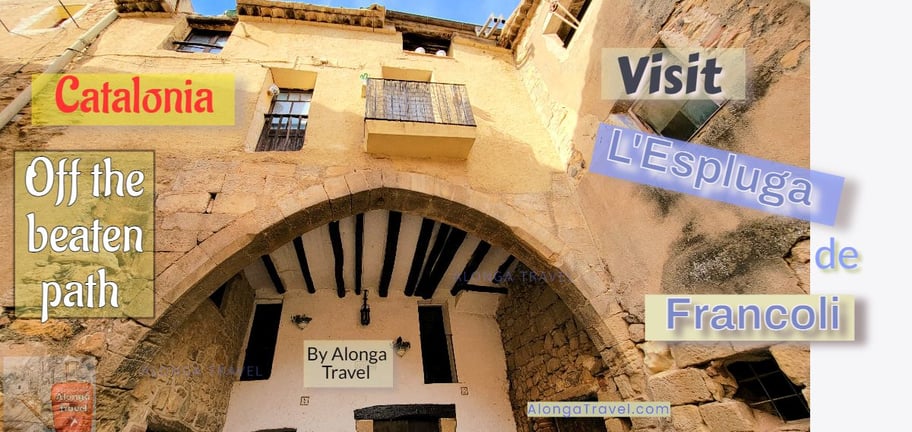 Off the beaten path: Espluga de Francoli in Catalonia, Spain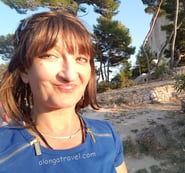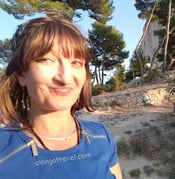 Catalonia is famous for its exceptional cuisine, unique architecture and vibrant culture. The province is home to several popular cities, such as Barcelona, Girona, and Tarragona. However, there are several off the beaten path towns in Catalonia worth visiting as well, and L'Espluga de Francoli is one of them.
Hello, I am Tatiana—an architecture addict fascinated with beautiful old buildings and discovering the gems of Europe. Check out my comprehensive travel tips and reviews of the best European destinations and city breaks. Let's connect on social media!
What is L'Espluga de Francoli
One of the hidden gems in Catalonia, Spain, is the small and picturesque medieval town of L'Espluga de Francoli. Although it is off the beaten path, this old architectural gem is definitely worth a visit due to its authentic medieval atmosphere.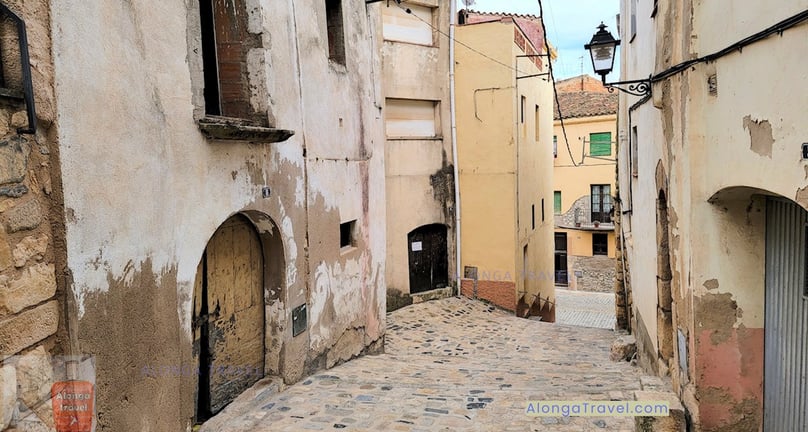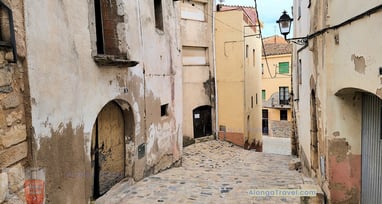 Walking through the streets, you will feel as though you have been transported back in time.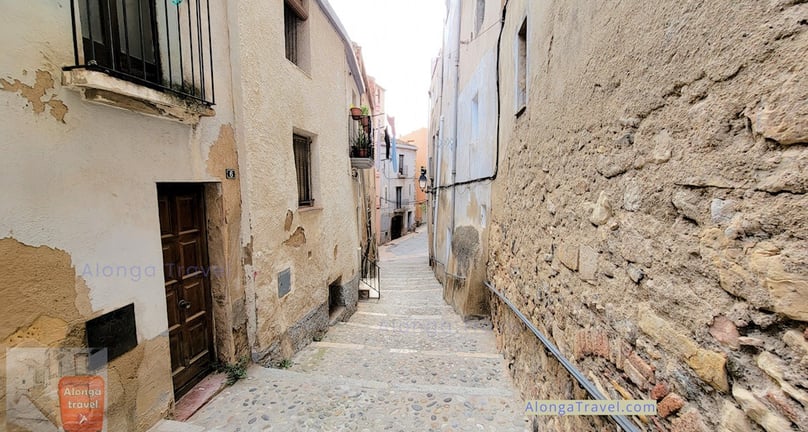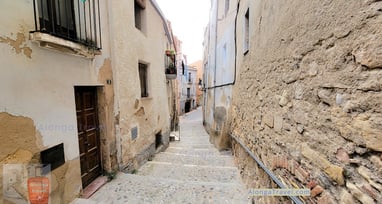 I believe it's more interesting to visit L'Espluga alone. First, it's located off the beaten path, and getting to there is a 2-hour adventure in itself.
And when you get there and see this amazing authentic town, it's older architecture in many parts not touched by tourism yet, and walk on the winding alley seeing no one, you feel you just got touched by something Special? The greatness of History and Human Civilization comes to mind!
And I am pretty sure that this feeling gets intensified because you're out there alone, slightly vulnerable and away from other tourist, all set to enjoy all the feelings that overwhelm you to the fullest! I'm sure visiting with someone could be fun as well, but do you understand what I meant?
And then, after you got to enjoy the feeling of the old times, you go to the center of the town to enjoy the cozy perks of the Civilization, like several small shops and cafes, restaurants and museums, and it's such a great combination!
And afterward, if you still have time and energy left - there are many wonderful hikes, and great bike routs around Espluga!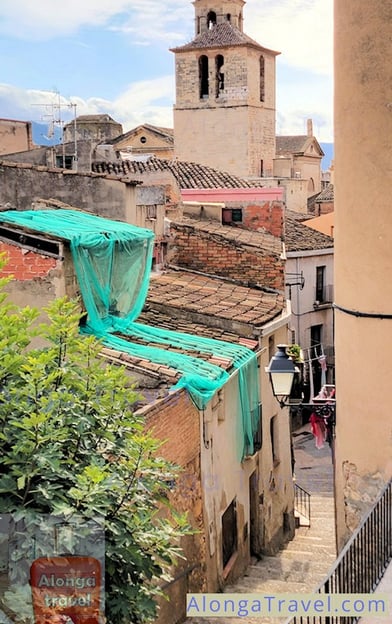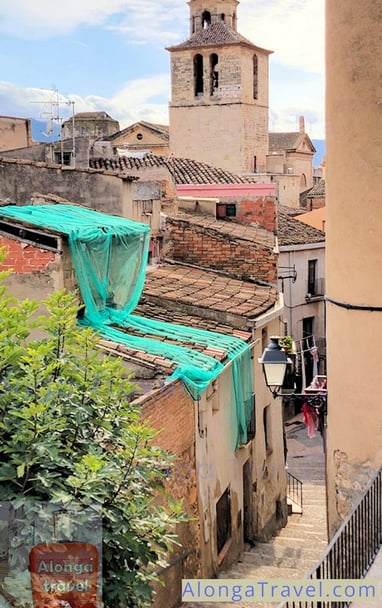 Architecture of L'Espluga de Francoli
Espluga is a gem to a lover of an older architecture! ! The winding medieval streets and beautiful old buildings are such a unique sight to see and they ooze authenticity! You will also see examples of Romanesque architecture, presented in The Church of Sant Miquel. More about this church is later on in this post.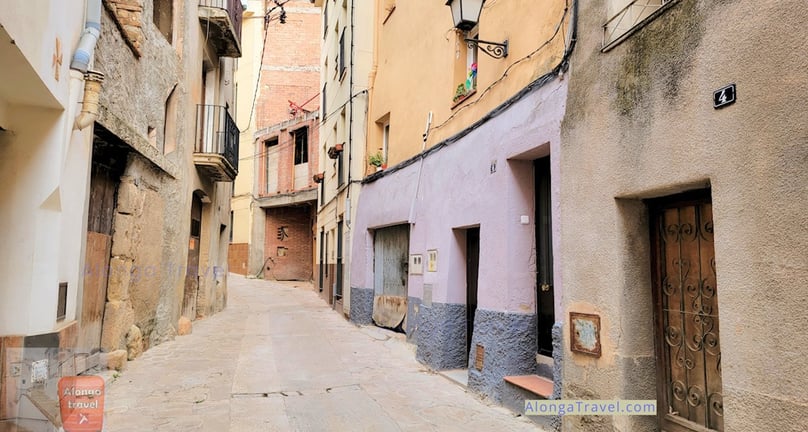 You will also see some very unique architecture of the medieval houses built on the town wall. Like the houses below!
If you are interested in Romanesque architecture or Catalan history, then I recommend a visit to L'Espluga de Francoli.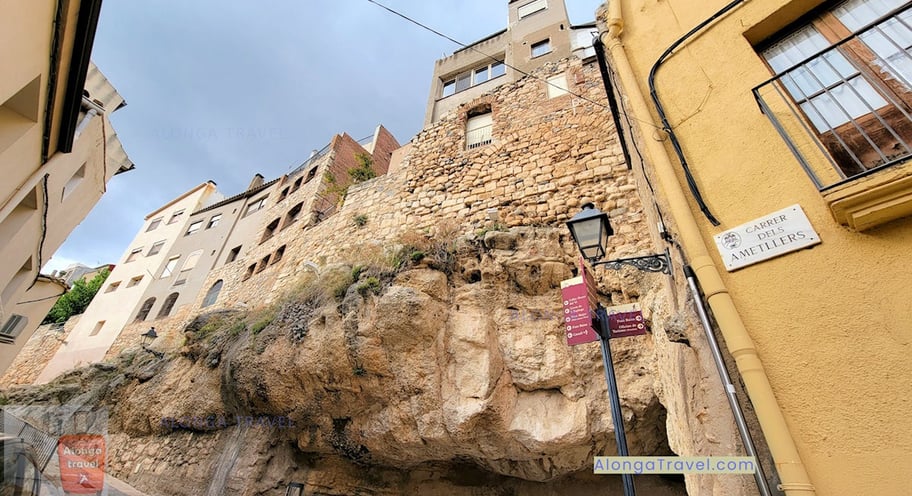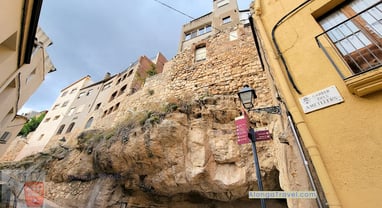 Just look at these houses. Aren't they special?!
BTW, if you're wondering how much the houses are priced nowadays – the old ones, that weren't remodeled are around 40,000 euros. The ones that were remodeled into beautiful modern town houses are around 150,000 euros.
I was curious, so I checked.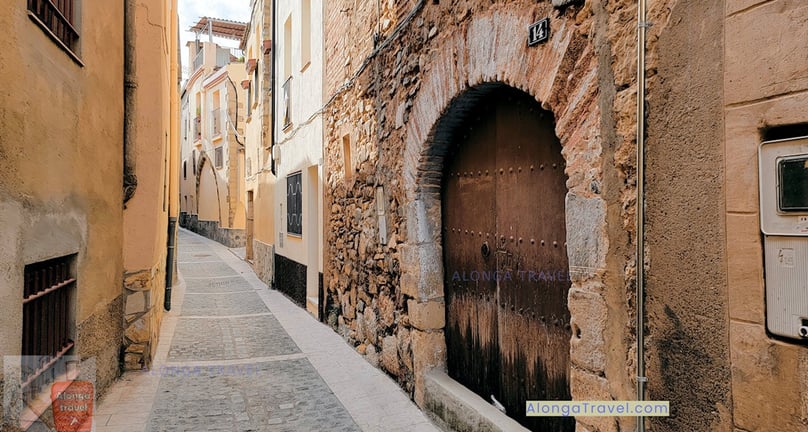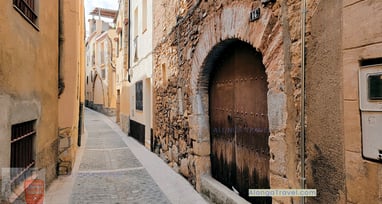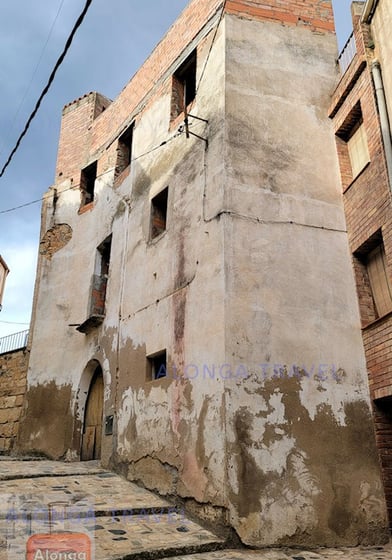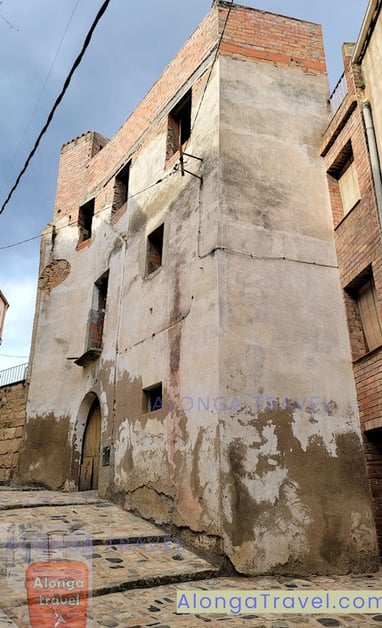 Where is Espluga located
L'Espluga de Francoliis, a commune in the Province of Tarragona , Catalonia , Spain , is located halfway between Tarragona and Lleida. You could easily miss this town if you didn't know where to look. So, you need to check the map to find it.
Where is Catalonia in Spain.
Catalonia, or Catalunya (Catalan), or Cataluña (Spanish), an unique region with its own unique language (Catalan,) is the northeastern province of Spain. Its capital is Barcelona. Here is the map of Catalonia.
Espluga is on the important Cistercian Route in Europe
The Cistercian Route in Spain is a network of monasteries, churches, and abbeys that were founded by the Cistercian order of monks. The route stretches from the north of Spain to the south, and includes some of the most beautiful and well-preserved medieval architecture in Europe. The Cistercian Route is a great way to experience the Spanish countryside and learn about the history of the Cistercian order.
L'Espluga de Francoli is located In the middle of the Cistercian Route, which includes the monasteries of Poblet, Santes Creus, Vallbona de les Monges. Cistercian monastery of Poblet, one of the largest in Spain, was declared a World Heritage by UNESCO in 1991. It is only 4 km away from L'Espluga.
History of L'Espluga de Francoli
How the town got its name
It is believed that the town got its name from the Latin word 'espluga', meaning 'cave' or 'pit'. Espluga is situated on a hilltop in the midst of vineyards and is surrounded by mountains.
L'Espluga de Francoli was founded in the 11th century and is closely associated with the Berguera family, a Catalan noble family who owned the land until the 20th century.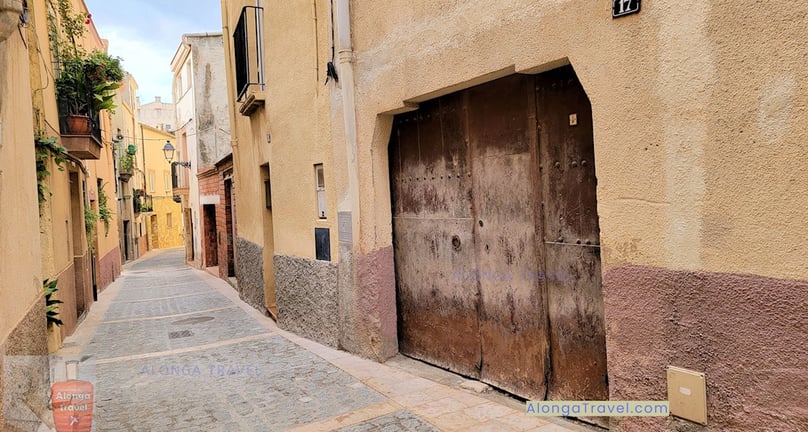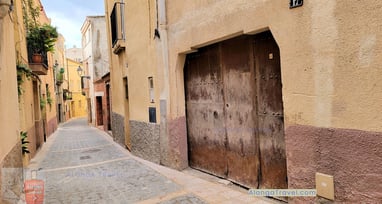 The town population is just over 3,000 people. You, probably, won't see many people on the streets other than in the main square if you visit during the off season, which adds to the surreal feeling of being transferred back to the medieval times. Of course, it gets more crowded in summer when the tourist's season picks up, because while Espluga is relatively unknown to the outsiders, it's very popular in Tarragona region, and even in the wider Catalonia area. And it's for a reason!
And the ones you will see will most likely greet you in Catalan – "Bon dia".
An interesting fact. You might already know some Catalan, if you've been to Portugal, as the languages have some similarities. In fact, Portuguese and Catalan have more similarities between them than with Spanish language!
Cats of Espluga
But don't you worry—even if you won't see many 2-legged inhabitants while walking the alleys, you will see plenty of friendly 4-legged ones! And they even might generously let you pet them! :)
They are pretty relaxed out there – the food is good and the views from their day-beds are amazing! :)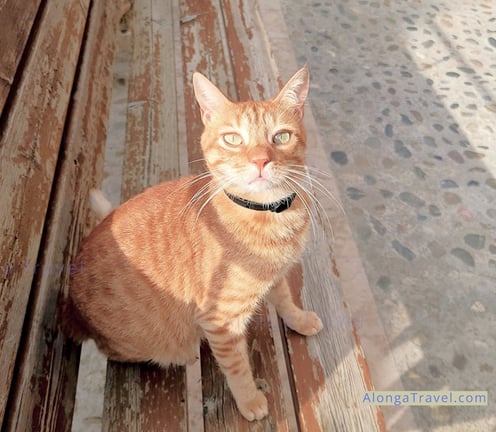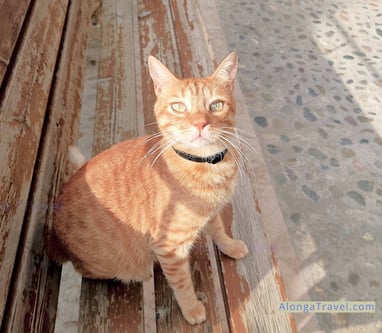 Look at the middle of this pic. Do you see this cat's day-bed? Wouldn't you like to nap there overlooking such a wonderful view of the mountains yourself? :) Such lucky cats!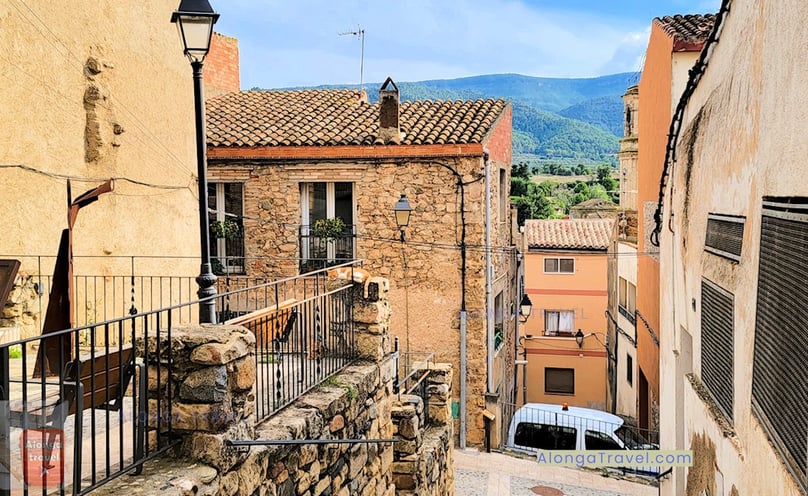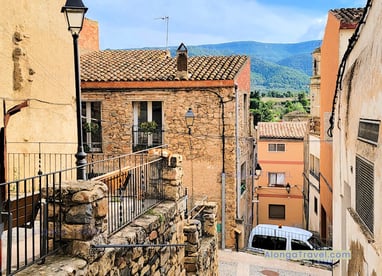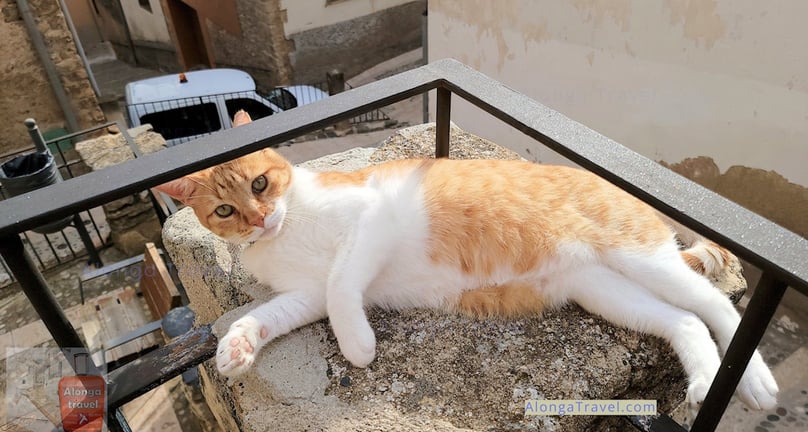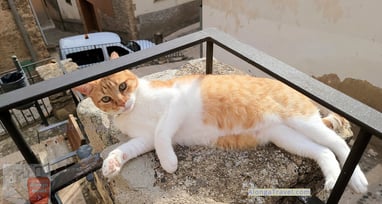 What to do in L'Espluga de Francoli
From its medieval allies, an interesting castle to its beautiful churches, there's plenty to explore in L'Espluga. There is Cultural Route that includes the Rural Life Museum, the Wine Museum, the Font Major Cave and the Fassina Museum. Poblet Vimbodí Natural Park and the Prades mountains, where you can find great hiking and biking trails, is only 2 km away from the town. You can find some hiking trails on alltrails at the bottom of this page.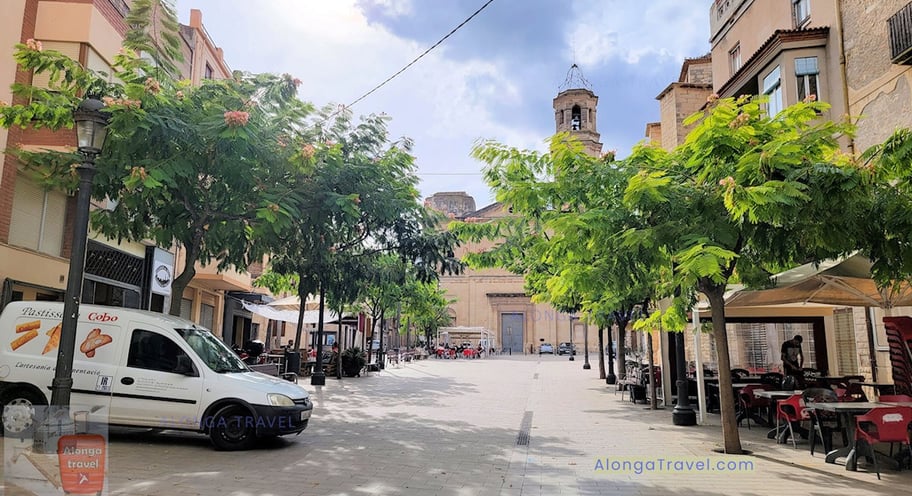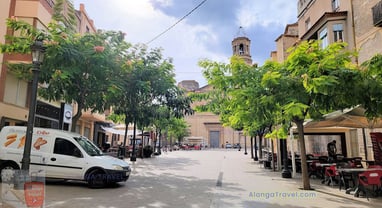 The town is also home to several small shops and cafes, and restaurants, serving delicious Catalan food. And if you're a fan of wine, you'll be pleased to know that the town is home to some of the best wineries in the region. So, whether you're looking to explore Catalonia's history or sample its delicious wine, L'Espluga de Francoli is the perfect place for visiting for you!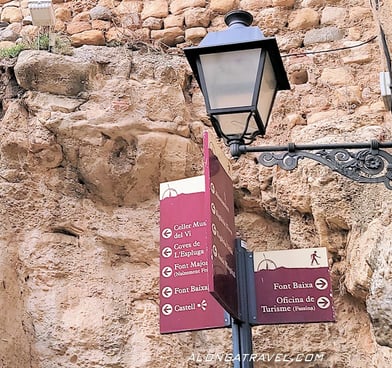 What are the tourist attractions in L'espluga de Francoli?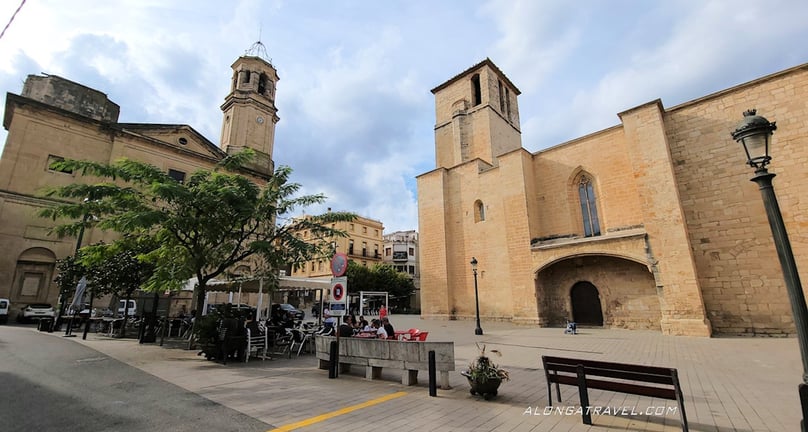 The Church of Sant Miquel
The church of Sant Miquel, or Old Church, is the centerpiece of Espluga. The church was built in the 13th century, and is a classic example of Romanesque architecture. The exterior of the church is simple, but the interior is very ornate, with beautiful frescoes and stained glass windows.
The church was burned down in 1873 and then rebuilt on the same place, using the same original 13th century stones.
The church is open to the public, and there is also a small museum attached to it. It is located on the main square, so you won't miss it.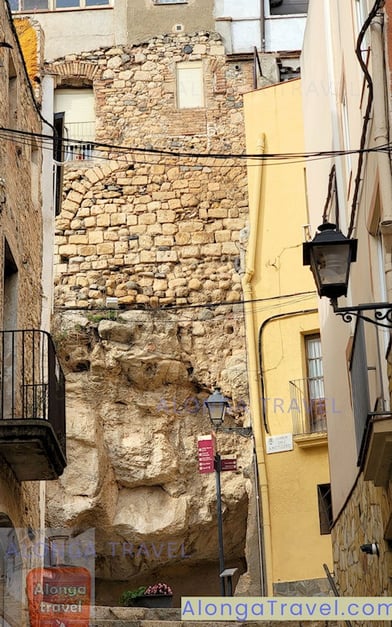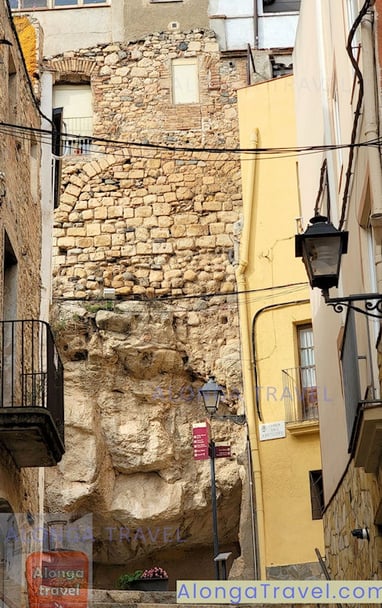 Defensive walls of Espluga.
One of the most notable features of L'Espluga de Francoli is its defensive walls. These walls were built in the 13th century to protect the town from invaders.
Today, the walls are still in excellent condition and provide a beautiful backdrop for photos.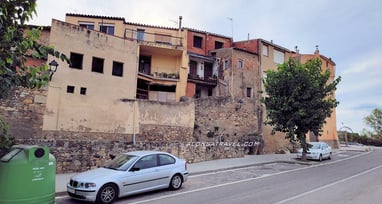 The Museum of Rural Life
There is an Ethnographic Museum in Espluga, called of the Museum of Rural Life, which is definitely a hidden gem and well worth visiting! It's a wonderful display of local history and culture, the journey through Catalan rural agricultural life from 1900 to 2000.
You will have a chance to stand in the old rural kitchen, to see all the pots and utensil, used in that kitchen, and see mannequins wearing the order period clothes.
You will see old furniture and horse-drawn carriages, plus many odd and cool things!
Each exhibit has English write ups on each piece throughout the museum. And after you're done, you can eat a snack on a terrasse you can get from an adjusted food booth.
This museum belongs to Carulla Foundation. An architect Lluis Carulla i Canals created the Museum in 1988 in the manor house of the Carulla family, and donated the collections of utensils and tools. 20 years later, another architect - Daniel Freixes - undertook an important expansion and modernization.
Address : Ctra. de Montblanc, 35, 43440 L'Espluga de Francolí, Tarragona, Spain
P.S.The entrance is free for disabled persons when the disability card is presented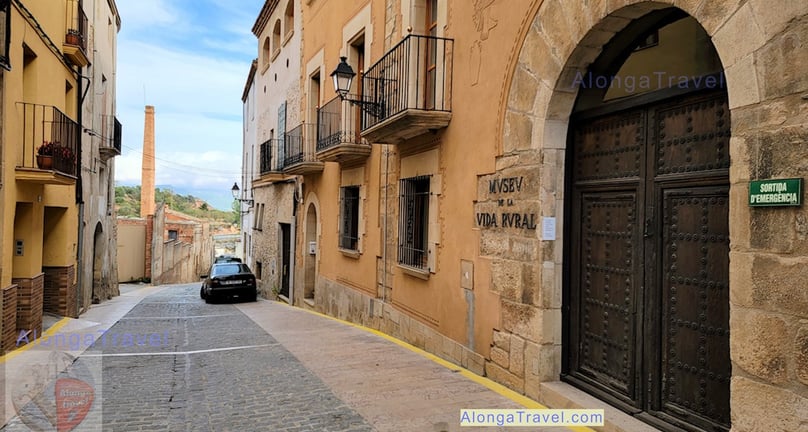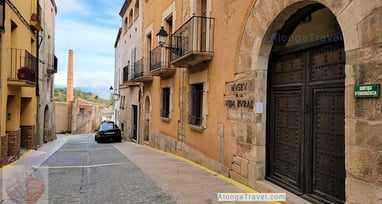 The back door to Museu de la Vida Rural. The museum from the front looks modern, but I liked the back alley with a view to an amazingly old tall chimney even more
The Castle de Milmanda - Familia Torres
The town also has a castle, which was built in the 11th century, and was originally used as a fortified monastery. Over the years, it has been used as a residence for the Counts of Barcelona, a military base, and even a prison. It is located outside of the town, and I'm not sure you can go inside at the moment, but you better check the current situation! The grounds of the castle are nice and this makes for a beautiful hike to there.
Sadly enough, I didn't get the chance to visit the castle, because I've chosen to stop in Montblanc (another wonderful mediaeval town) on the way to L'Espluga, and I had to restrict my visit to the train hours. More about different Itineraries for this visit will be posted in my next post.
Wine museum of L'Espluga de Francoli
Starting from mid-19th century, cultivation of vines became an important factor in the development of the region of Espluga in Tarragona. If you like architecture and wine, you will be delighted to visit this Wine Museum.
The Bodega Cooperativa is a stunning example of a modernist wine cellar, designed by Lluís Domènech i Montaner at the beginning of the 20th century and completed by his son Pere. This incredible space is filled with light and air, thanks to the large windows and skylights, and is decorated with beautiful mosaics and sculptures.
Here you can learn the history and development wine-making techniques. You will see the museum displays and can use audiovisual on the 3rd floor of the building.
The cooperative was founded in 1904 by a group of local wine growers and today, it is still run by the cooperative members. They produce high quality wines that have won numerous awards, and they also offer tours and tastings of their wines. The Bodega Cooperativa is a must-see for anyone interested in architecture or wine.
And once you've learned all the theory of wine-making and wine-tasting, you can reinforce your knowledge in the local restaurants!
Fassina Balanyà
La Fassina Balanyà is an old distillery of spirits from the 1830s. You can see the old and restored machinery here, and learn the production process for obtaining spirits and other derivatives from the grape.
La Fassina Balanyà is part of the Territorial System of the National Museum of Science and Technology of Catalonia.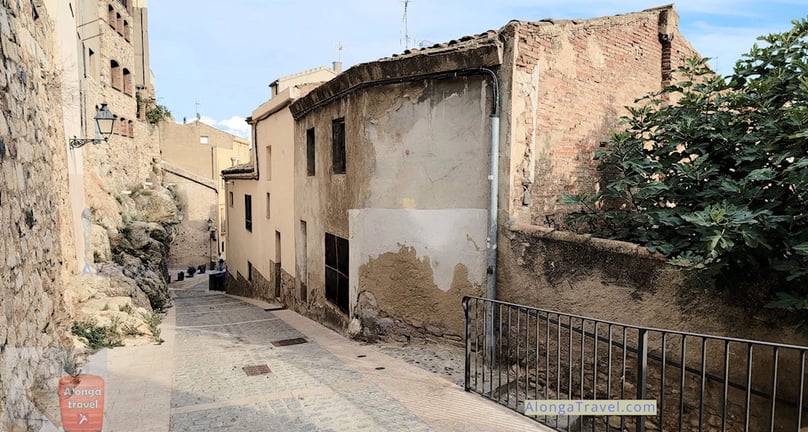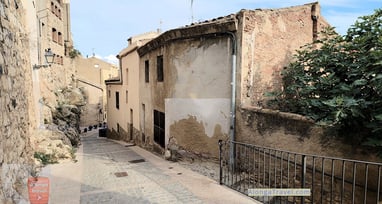 Where to eat in L'Espluga de francoli
Art Restaurant
https://www.artrestaurant.es/
Art Restaurant serves delicious contemporary Catalan cuisine of the season, with products from the land, and you'll get both tradition and creativity. It's located in a renovated old rural charming farmhouse in the outskirts of L'Espluga de Francolí, about 100m from Celler del Poble. Pay attention: the current hours or work are 1pm-4pm.
Address Camí Clos, s/n, 43440 L'Espluga de Francolí, Tarragona
GAS GARAGE RESTAURANT in L'Espluga de Francolí (Tarragona)
The restaurant offers signature pizzas, made by hand in their workshop using first quality flour and extra virgin olive oil from their own harvest. This results in delicious pizzas! They also offer burgers, pastas, and other dishes
ADDRESS Av. Catalunya, 16 43440 l'Espluga de Francolí (Tarragona)
Contact them: 977 87 04 77 gasgaragerestaurant@gmail.com SCHEDULE From Tuesday to Sunday 20:00h to 00:30h
The Ocell Francolí Rural Family Hotel and restaurant.
The restaurant serves traditional Catalan cuisine with some new trends. All made with the high-quality products of the Tarragona region. Some most popular dishes are: 'the snails from the inn, the wild boar stew, the pig's trotters, the trout with walnuts, natural grilled meat and the typical seasonal calçotada.
43440 - L'Espluga de Francolí (Conca de Barberà) Tarragona - Spain
Where to stay in L'Espluga de francoli
Here are a few lodging options:
There are some (though not many) individual options for an overnight stay in L'Espluga, and there is also a huge resort at the outskirts of the town, MAS DE MORA. Or you could go to Espluga for a day- trip from Barcelona (2 hour's trip). Staying overnight is preferable, as you will have time to explore nearby monasteries as well!
A rural stay: MAS DE MORA (RURAL ACCOMMODATION)
address: Camí Mas de Mora
Tel: 610.297.731
ESPASA MANOR HOUSE (MASOVERIA)
Tel: 630 468 923
The Ocell Francolí Rural Family Hotel and restaurant.
43440 - L'Espluga de Francolí (Conca de Barberà) Tarragona - Spain
Pictures of old doors in Espluga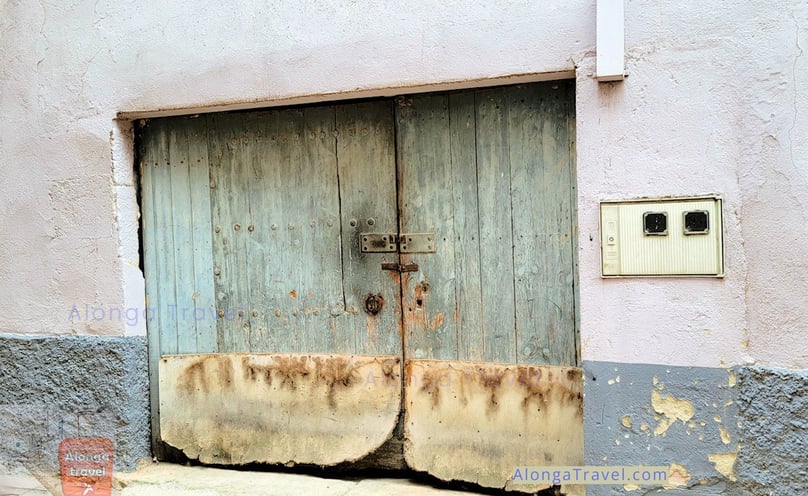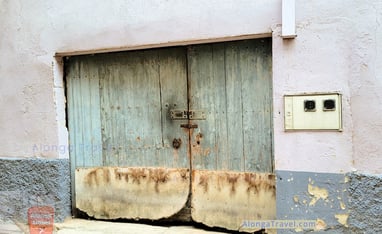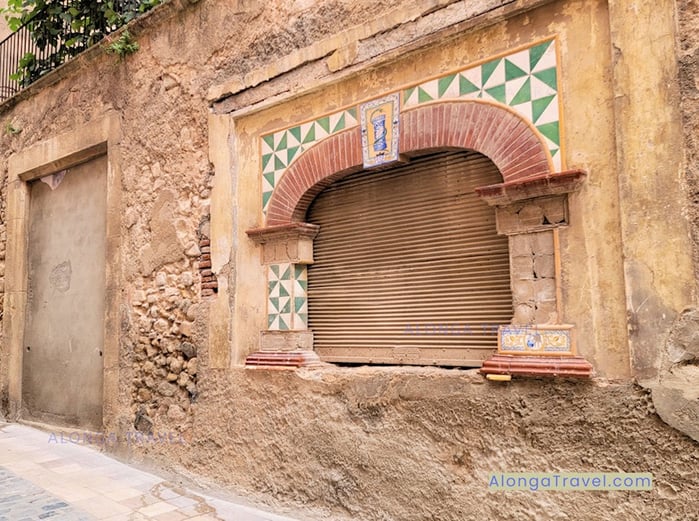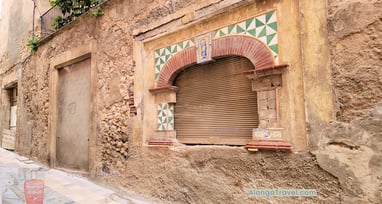 How can I get to L'espluga de Francoli?
1 Transportation options ( you can drive, take a bus or a train)

2 Cost You can rent a car and the drive will be around 1.5 hours and gasoline will costs you around $20-35 one way.
Public transportation to Espluga.
You can get to L'Espluga De Francolí by Bus or Train
There is Renfe Cercanías train from BARCELONA SAINTS towards LLEIDA and the price will be around $10 one way, or a round-trip ticket (my recommendation!) for $15-20. You would need to buy a separate ticket to get to Barcelona Saints first. These are the lines and routes that have stops nearby -Train: R13, R14 You can't buy a Renfe Cercanías train ticket online. You can only buy it at the train station on the day of travel, but you can check the schedule here. https://www.renfe.com/es/en
Important! Don't get alarmed at the train station when you won't find a ticket machine, or anyone to sell you a ticket, and you didn't buy a round ticket! While in general, it's more expensive to pay for the ticket, once you already on Renfe Cercanías train ( a train that travels in the nearest to some big city area. Cerca in Spanish means - close by. But, in case when a town is so small that it doesn't have it's own ticket machine, the train conductor will sell you one for the regular price.
What bus stations are close to L'Espluga de Francolí?
The nearest stops to L'Espluga:
Av. Catalunya - Ctra. T-700, L'Espluga De Francolí

Pl. Del Centenari
Bus: L1664
Check the BUS schedule here.
Towns nearby
Nearby towns are Montblanc and Vimbodí i Poblet and both are really worth visiting! You would be able to combine 2 towns total on your 1-day itinerary from Barcelona, but not all 3. Most people would choose Montblanc as an addition to visiting l'Espluga on the same day, coming from Barcelona. You can build a trail for yourself to Poblet monastery.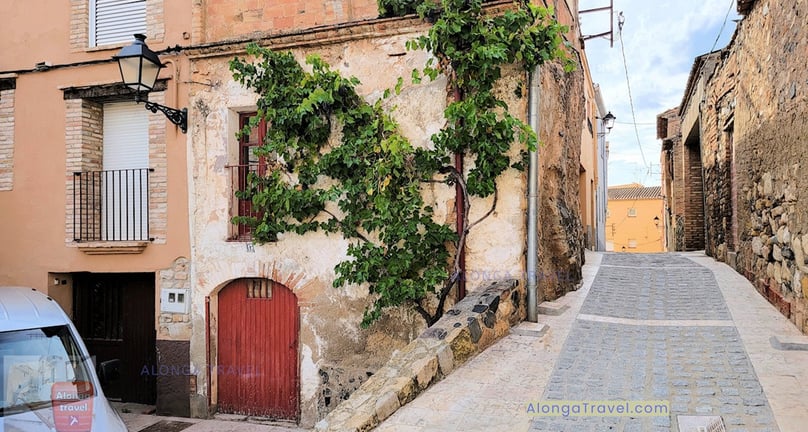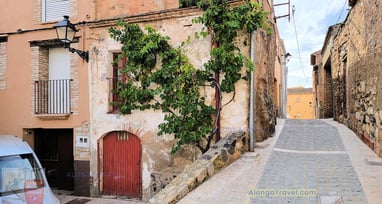 In CONCLUSION
In conclusion - whether you're looking to explore Catalonia's medieval architecture, it's history or sample the town's delicious food and wine, L'Espluga de Francoli is the perfect place to visit for you!
I hope I have convinced you to visit!
Let's connect on social media, the links are bellow!