How to get around Portugal; the best and cheapest ways to travel the country.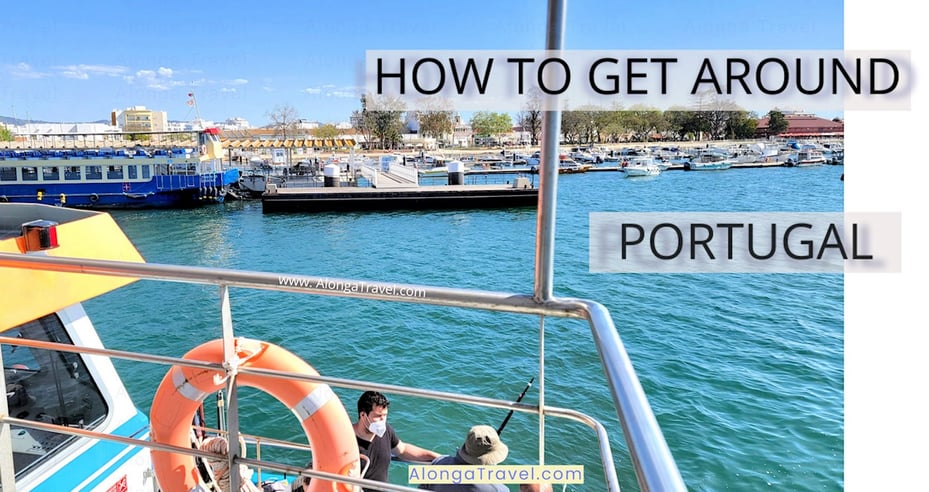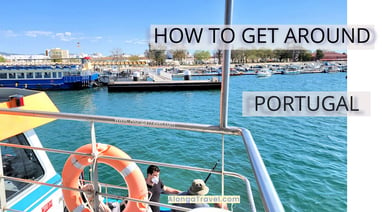 Portugal is a stunning country and has a great number of picturesque cities, towns and beaches. If only you could get fast and conveniently between them, right?
I will show you in this guide how to get around Portugal fast and on the cheap. You will learn the best (and fun!) options for getting around Portugal, so you can plan your trip better and save money on traveling.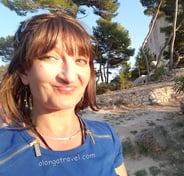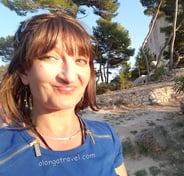 Hello, I am Tatiana—an architecture addict fascinated with beautiful old buildings and discovering the gems of Europe. Check out my comprehensive travel tips and reviews of the best European destinations and city breaks. Let's connect on social media!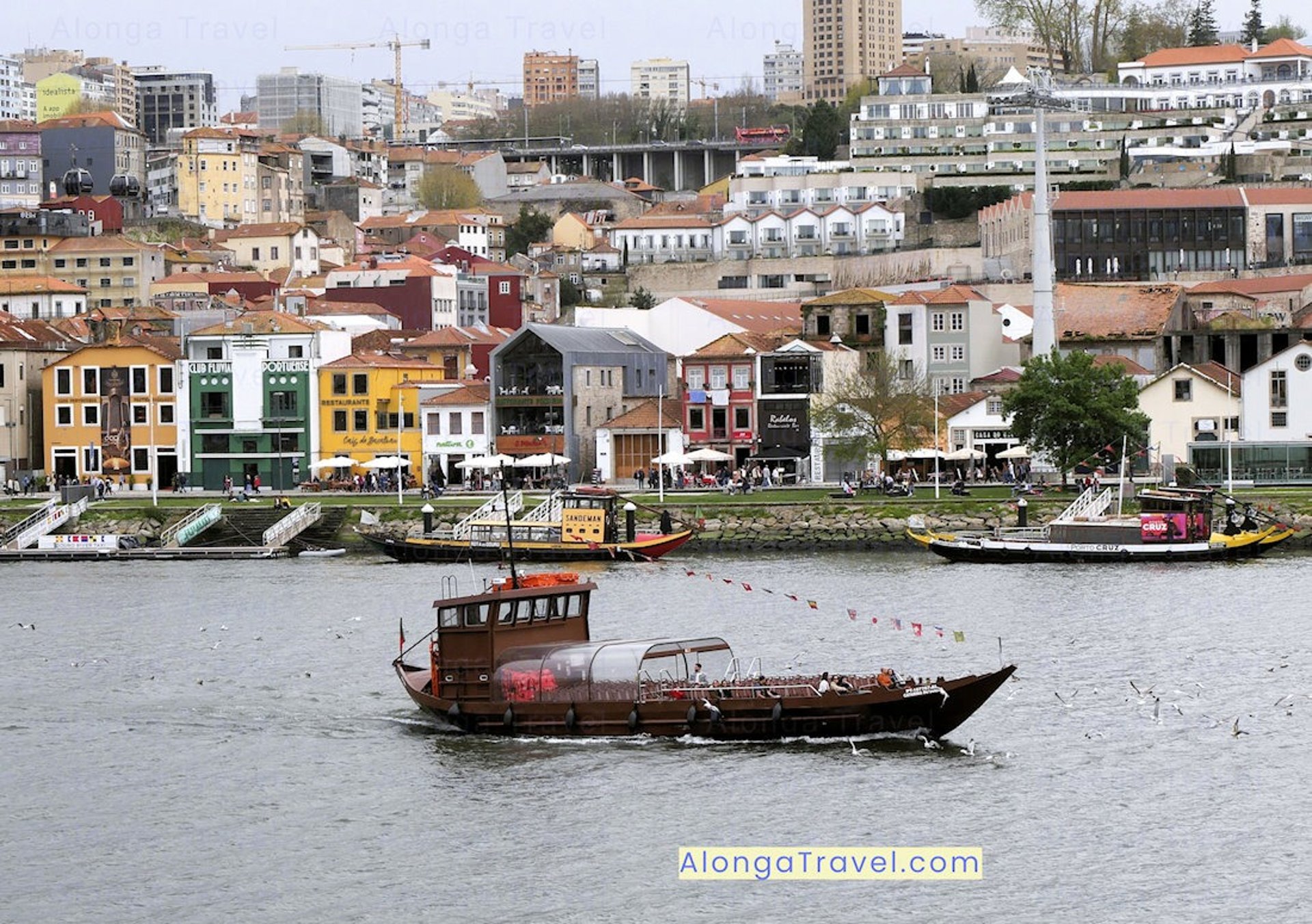 Best way to get around Portugal
What is the best way to get around Portugal? The best way to get around Portugal is to use the country's excellent transportation network.
Train is the fastest and most convenient way to get around Portugal, with four categories of long-distance service and a good network that connects the major cities.
Buses are also a great option for traveling in Portugal, because they go everywhere, including the smallest villages. Buses are an ideal option on a budget (or everyone!), and you'll get to enjoy the slower views from your window.
There are some fun ways to get around Portugal, like ferries, boats, bikes, trams, funiculars, elevators (you won't get far on those-but you will get high up!:). There are also sensible and fast ways like metros, shared rides, or rental cars.
So, there are many great ways to get around Portugal, depending on your itinerary and what you prefer.
Many wonder: is there Uber in Portugal? After all, we've heard something, right? Something, something, about Uber operating in the gray area of the law and being outlawed?
Is there Uber in Portugal?
Uber is legally operating again (since 2018) in Portugal. Despite the past, Uber is available in Portugal, but not everywhere..
The recent implementation of the 'Uber Law' has made this possible, but Uber is still not widely available everywhere. Though it is getting more and more popular, especially since tourism is expending around, as the county gets discovered more and more.
It is available in the Porto and Lisbon metropolitan areas, though. Download an app if you're going to these cities.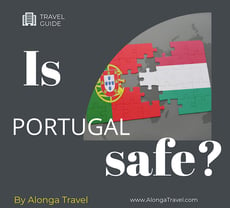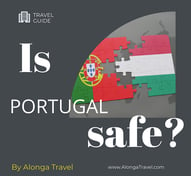 renting a car in Portugal
If you are traveling to Portugal and need a car, driving in Portugal can be a great way to explore the country, allowing you to access isolated gems and undiscovered villages.
Portugal is one of the few European countries that does not suffer from traffic congestion caused by urban sprawl, which means you can get around easily. There are several car rental options available.
You can read more about the benefits of renting a car in Portugal here.
But renting a car is not the best option for the tourist traveling alone or tourists on a budget. Or - anyone who doesn't want to worry about a car!
A car is expensive, and it requires a lot of gas money to get around the country, there are toll roads, and you need to pay for parking and worry about 2 hours limits most times. You can read more on why NOT rent a car if you're traveling solo in Europe here.
Luckily, it's easy getting around Portugal without a car!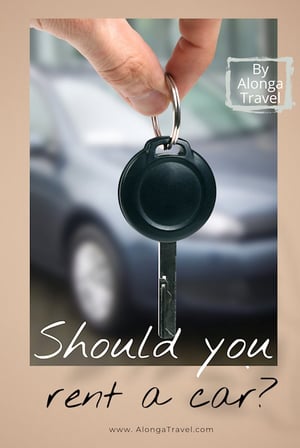 Portugal without a car
There are many options for getting around Portugal without renting a car. Here is a short list.
Public Transportation. Public transport is a great way to travel in Portugal, as it is very reliable and the options are plentiful: trains, buses, metro, trams, funiculars, elevators, and even - ferries! Read about my comprehensive Portugal public transport Guide here.

Taxies and Uber.

Ride-share.

Boats and ferries.

Biking on scenic roads.

Lets take a look at all these options in more details below.
How to get around portugal by bus.
The most popular way to get around Portugal is by bus, because buses are available all over the country, and are comfortable and cheap. Reginal trains follow close behind as the second popular mode of transportation, and are even cheaper on some routes (like, Lisbon to Sintra - 2.25 Euro)
Bus services fall into three main categories:
Carreiras: marked "CR," these are slow services, stopping at every crossroads. They tend to run around specific regions of Portugal.

Expressos and Rápidas: Comfortable, fast buses. They run between major cities and are the most popular with tourists. They are slighly more expensive.

Alta Qualidade: A fast, deluxe category offered by some companies.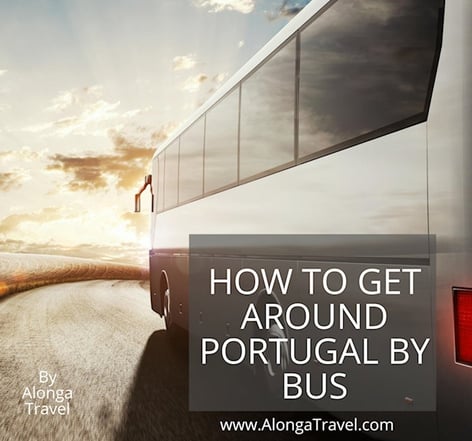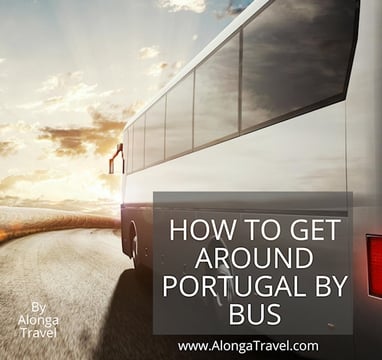 There are many private bus operators serving Portugal public transportation needs.
Some of them sell tickets on-line, many of them don't, and you can only buy an advanced ticket from a ticket booth. They sometimes depart from different terminals in Portugal, even though they arrive at the same stop. Sounds complicated? Well, using the buses is easy. It's the figuring out which bus company to use that is a bit complicated.
The good news is you don't really need to know all that. You can just go to Rome2Rio website, and it will tell you most info you need (not everything, though!) The most important information for you would be to figure out which bus stop to arrive to, and you can buy a ticket there (unless it's a busy season).
But, if you want to plan in advance, you might want to read my other more detailed post. Because the list of all bus companies is long, and there are many details about the rides (with their websites), I made a separate post for that. Read my comprehensive guide to bus services in Portugal here.
But just to give you an idea how inexpensive the service is, you can get from Lisbon to South Portugal, The Algarve area for 6-10 euros. Alternatively, you get from Porto to Lisbon for 6 euros. You can find answers for all your bus needs in Portugal in my other post (link above).
Why visit Espluga de Francoli in Catalonia
Train services in Portugal
Portugal has an extensive rail network with trains running from Lisbon to Faro, Porto, and many other destinations within the country. Trains are the most convenient and fast mode of transportation, and they are also reliable and affordable.
Portugal's rail system is operated by the state-owned Comboios de Portugal (CP) (get their rail network maps and tickets online). They run four main types of long-distance service:
Regional (R): slow trains that stop almost everywhere;

Interregional (IR): faster services that skip the smallest stations;

Intercidade (IC): express trains that tend to stop only in big cities;

The Alfa Pendular Deluxe trains are slightly faster than express trains and their tickets cost substantially more. (not a good ration of added value/price).

If you're wondering about the cost of train tickets, I was able to buy a train ticket from Lisbon to Porto for 10 euros on a train, and 5 euros on a bus going back. I got this great price because I booked my tickets in advance.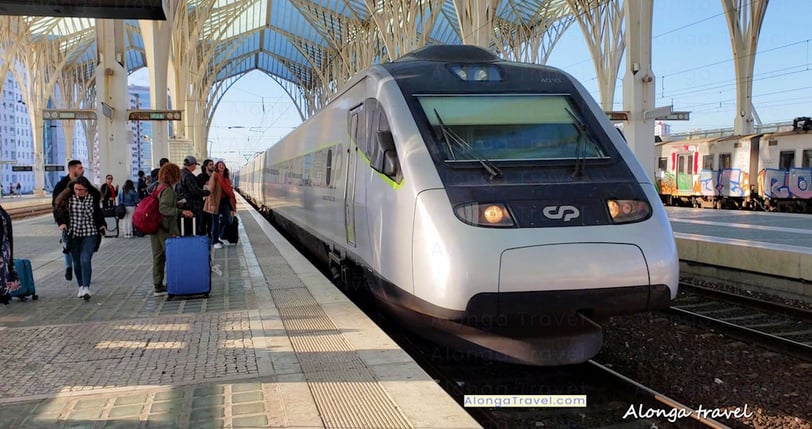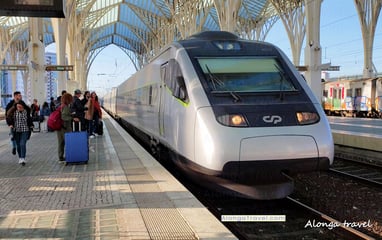 How to get around (or tour?:) by ferry.
Everyone has an idea that you can use a ferry, if you are planning to travel between mainland Portugal and Madeira, or Azores Islands. And yes, you can and you should, and they are operated by Transtejo and Soflusa.
Tickets can be purchased online or at their terminals in Porto Santo, Faro, and Lisbon.
But did you know you can take ferries as a regular public transportation across a river in Lisbon, Porto and in Algarve?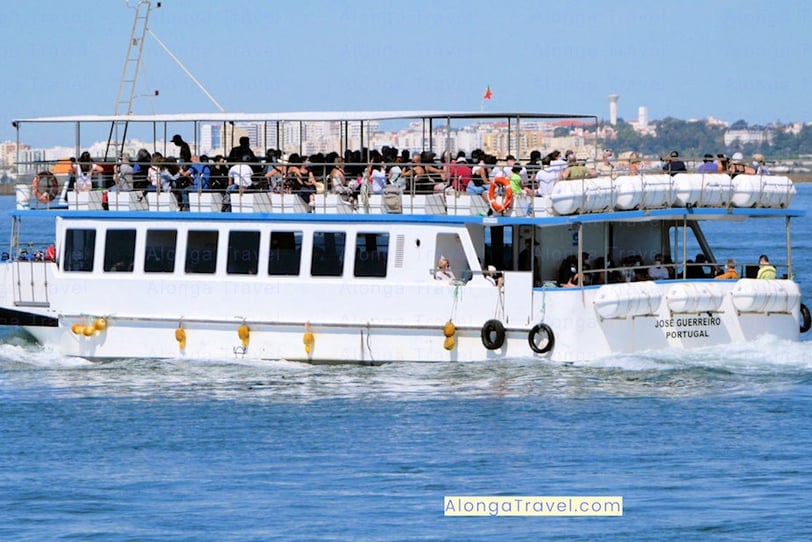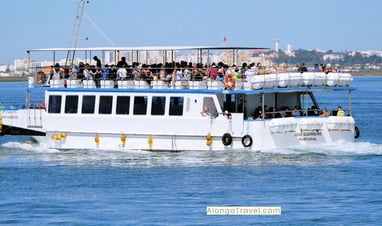 A ferry runs to the ocean beaches from Olhao, Algarve
The Algarve ferries provide rides that last 30 minutes, and cost of 3-4 euro for a round trip to the ocean from Faro, Olhao and Tavira ( I rode all 3 ferry rides, and I highly recommend them to you!).
Look at these fun boats! Not only will you be able to get to the coast on them, but the trip itself is very exciting! You will be riding the ferries along canals. You will see many yachts and small boats on the way to the beach. You will also see many wild birds, as there are marshlands and bird sanctuaries along the canals.
All the details about these 3 ferry rides are covered in my other post, but I just want to post a few pictures here to lure you to learn more!:) You know you want to be on that ferry, right?:)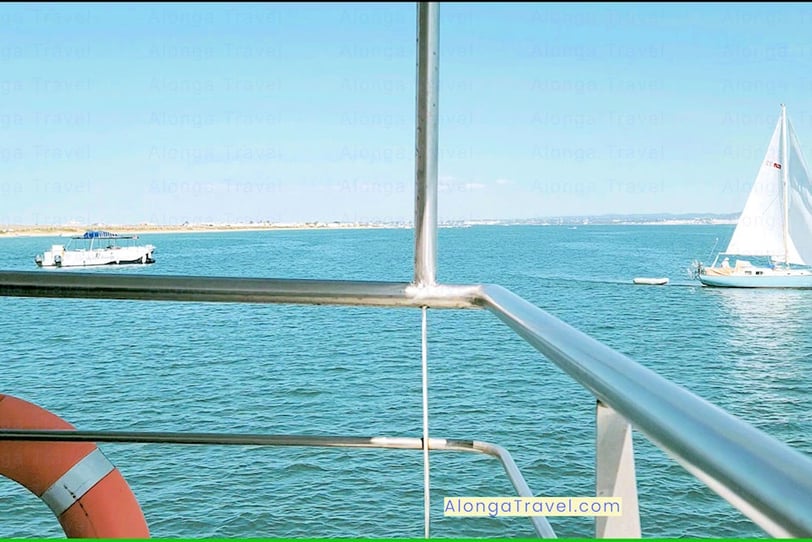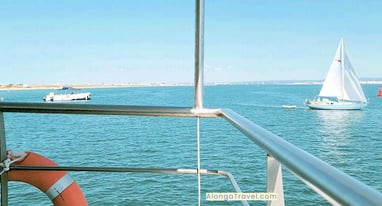 A smaller ferry on the way to the ocean beaches from Tavira, Algarve - a part of public transportation service
Taxi or Uber?
The taxi option in Portugal is an easy way to get around, especially if you're in a time crunch. Taxis always run on a meter, starting at €3.50, and can be found at most major towns and airports.
Most of the taxis in Portugal are beige—or occasionally green and black—so look out for the official taxi sign on the roof and the driver's ID displayed in the cab to be sure you're getting in a legitimate car. Passengers often round up the fare for a small tip. If you are an American - tip slightly less than what you are used to.
Taxis in Portugal are metered, with a base rate of €3.50, so it's important to be aware of the potential for additional fees for heavy luggage or late-night trips. Taxis in Portugal are only allowed to carry 4 passengers, so if you're traveling with more people you will either pay extra, or get an Uber instead.
They are widely available and usually reliable, although they can be more expensive than other options.
Uber is only slightly cheaper in Portugal than taking a taxi for short trips, with savings of a few euros at best. Though most of us like Uber for the convenience of walking cashless - the charge goes directly to the registered credit card.
BTW, have you heard, that Uber charges more if your car battery is low? There was a controversial article showing that Uber has a way of knowing your battery status, and when it sees it is low, it feels your desperation (and knows you don't have much battery to shop around), and offers you a much higher rate?
For longer trips, Uber is about half the price of a taxi, but there are also European ridesharing companies like BlaBlaCar that may offer an even cheaper rate.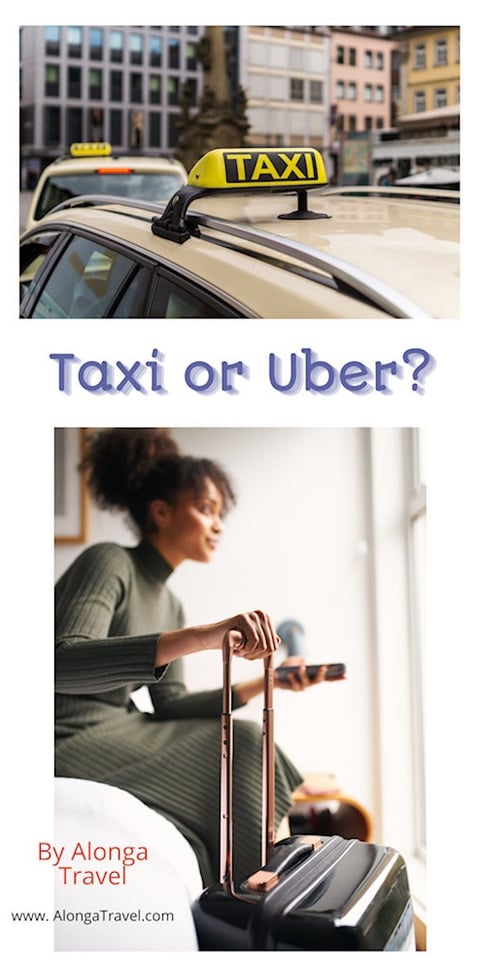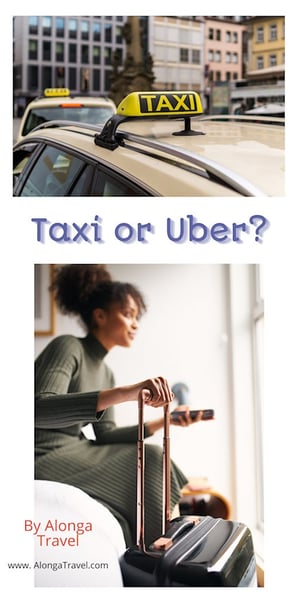 Ridesharing apps
Ridesharing apps are becoming increasingly popular in Portugal, especially with tourists. They offer an affordable alternative to taking a taxi or bus and can be convenient for getting around quickly. Some of the most popular ridesharing apps in Portugal include Cabify, BlaBlaCar, Bolt and Free Now.
Cabify
Cabify is one of the largest ridesharing companies in Portugal and operates in several cities, including Porto, Lisbon, Faro and Coimbra. Prices start from €5 for a minimum fare and vary depending on distance traveled and time taken to reach your destination. Users can pay by credit card or cash if desired.
BlaBlaCar
BlaBlaCar is another popular option that connects drivers with people looking for a ride. It operates throughout Portugal, with drivers traveling between major cities regularly. Prices start from €3 per person plus an additional fee for every extra person. Payment is made through the app itself using PayPal or a credit card.
A note - BlaBlaCar might not be the best option for an extraverted person. It is kind of expected from you to participate in conversations people will have in a car. Unless you can pretend not to know the language (or just plain don't know it for real?).
Bolt
Bolt is similar to other ridesharing apps, but it also has motorbike scooter rides available which can be useful in highly congested areas during peak times. They also do food and grocery delivery. Prices start from €2.50 and can be paid through the app using PayPal or a credit card.
Free Now
Free Now is another popular ridesharing app in Portugal which works in the same way as Bolt, Cabify and BlaBlaCar. Prices start from €3 plus an additional fee for every extra person. Payment is made through the app itself using PayPal or a credit card.
Trams In Lisbon and Porto.
Now, even if you don't enjoy using public transport, and you are planning to either use a rental car, use ride-sharing, taxi, or bike - you can't miss a fun ride on trams 28 and tram #25- they're famous for a reason!
For the price of a regular ticket on public transportation grid, you get to experience something very fun!
Read my guide on riding tram 28 in Lisbon.
Don't forget to use Viva Viagem card for the best price!
Look at this cute tram. How can one not want to ride in it?!:)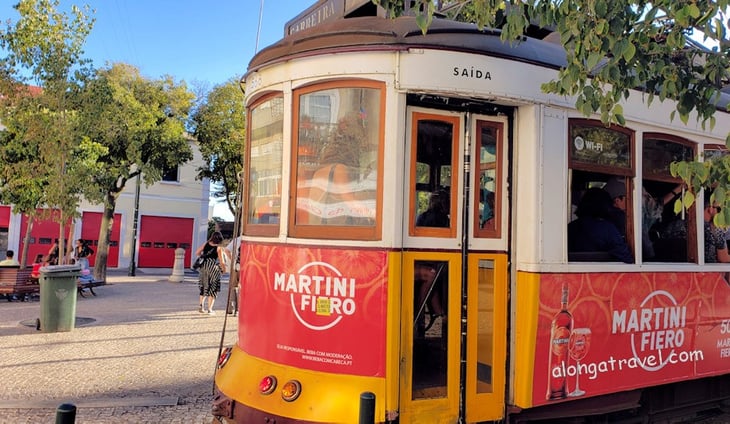 Biking
Biking and cycling is getting more popular in Portugal. Read my post about cycling in Portugal, where to rent bikes, how to carry them with you, and the rules about riding them in this post. Or, you can rent scooters.
Getting around different areas in Portugal you often have to use services specific to that area or to the city.
How to get around in Lisbon, Portugal
It is very easy and convenient to get around Lisbon, Portugal. There are many relatively inexpensive options. You can use the metro, buses, trains, trams, funiculars, lifts, and even ferries to cross the river.
However, the ease of traveling around the large Lisbon metropolitan area and greater Lisbon due to the availability of many operators and transport modes, makes the list of all of them too long to post here. Check out my other post for all the details.
For getting from Lisbon to Algarve and other areas - use described above bus and train operators. For example, you can take a 3 hours train to Faro, or a much cheaper 4 hours bus.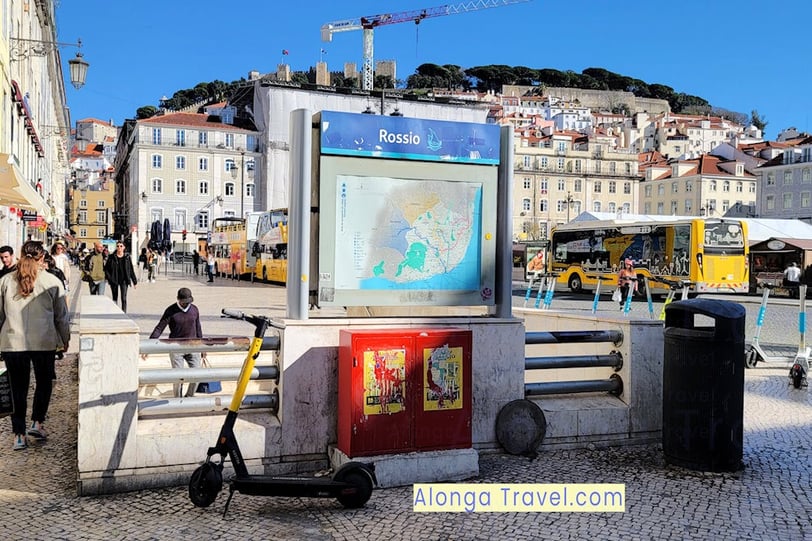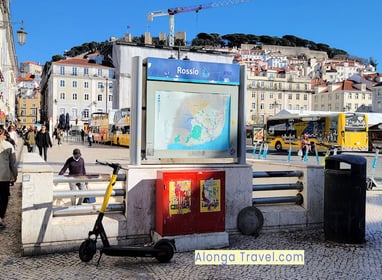 How to get around Porto
1. Walking: Porto is a very walkable city and exploring it by foot is the best way to truly experience its charm. Most of the top sights and attractions are located within walking distance of each other.

2. Public Transportation: Porto has a reliable and affordable public transportation system, including buses, trams, and metro. The metro system is especially efficient and covers many areas of the city.

3. Taxis: Taxis are a convenient way to get around Porto, especially if you are in a hurry or have a lot of luggage. Taxis are readily available throughout the city, and fares are relatively inexpensive.

4. Bicycle: Cycling is a popular way to get around Porto, and there are many bicycle rental shops throughout the city. Porto also has several bike lanes and dedicated cycling paths.

5. Car rental: If you prefer to have more flexibility and freedom, you can rent a car in Porto. However, be aware that driving in the city can be challenging due to narrow streets and heavy traffic during peak hours.

6. Boat: Porto is located on the Douro River, and taking a boat tour is an excellent way to see the city from a different perspective. Boat tours typically offer stunning views of the city's historical buildings, bridges, and riverbanks.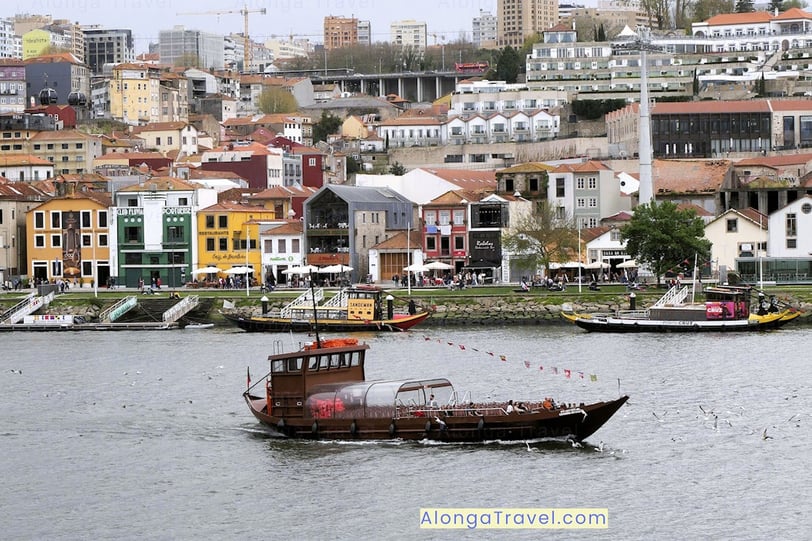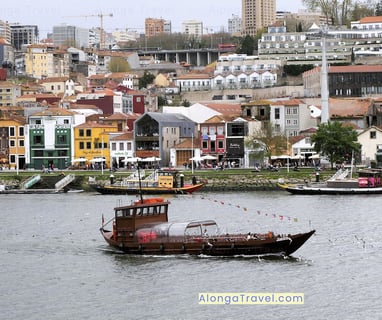 How to get around Douro valley
The most popular routes are between Porto and Vila Nova de Gaia, which is located just across the Douro River from Porto. This route is serviced by Transtejo Ferries, which provides both day trips and overnight cruises for tourists. Other popular ferry services include those that connect Porto with coastal towns like Viana do Castelo, Aveiro, Matosinhos, and Espinho.
Ferry rides offer breathtaking views of the Douro River valley, plus the opportunity to explore stunning riverside villages along the way. Whether you're looking for a romantic cruise or simply an easy way to get from one place to another, taking a ferry in Porto is definitely worth considering!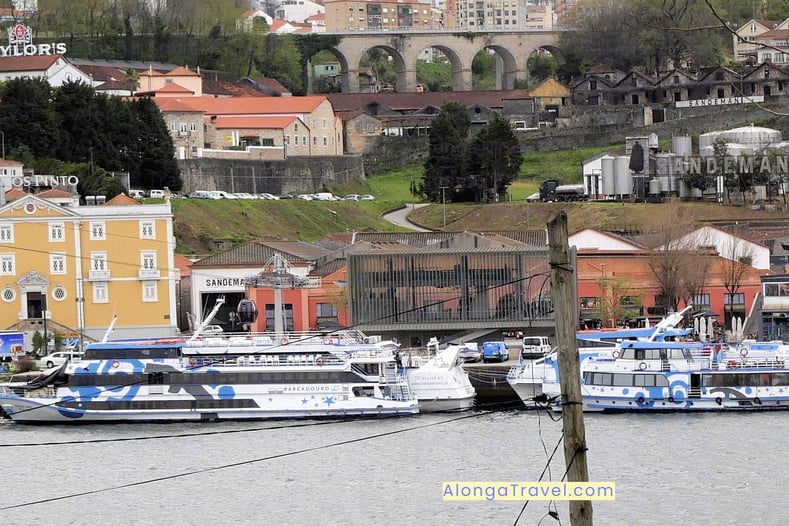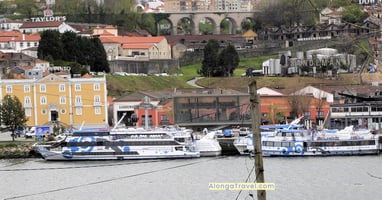 How to get around Sintra, Portugal
Cascais, Estoril, Sintra and the surrounding area are served by the buses of Scotturb.
Scotturb is a bus operator in the Lisbon area that offers services from Porto to Sintra and the surrounding areas. It operates over 50 routes, with most of them concentrated in the Cascais, Estoril and Sintra regions. Routes 434 and 435 run in Sintra.
Scotturb also provides services to Mafra, Ericeira and Costa da Caparica. Its buses are reliable and reasonably priced, making it one of the best ways to explore this region of Portugal.
For those wanting to reach many attractions and places in Sintra (don't miss Sintra National Palace – read my post about it), the Scotturb operated hop-on hop-off sightseeing buses are a great option. The ticket cost is 6 Euro. The routes offer an easy way to visit multiple palaces without needing to use an expensive there Uber or tuck-tuck. The buses stop at some of the most popular attractions, giving you plenty of opportunities to explore Sintra and around.
There is also an old railway car going to the ocean from Sintra, which is fun to take during the warm season (the wagon is an open car with no roof, so it can get cold and windy).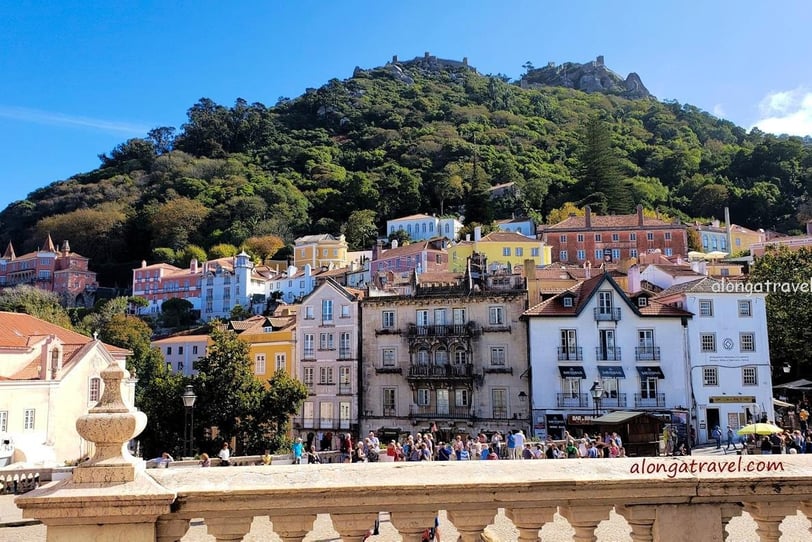 How to get around in Algarve, Portugal
There are many buses, connecting towns in the Algarve region of Portugal or Algarve to the rest of Portugal.
There is also a railroad connecting all the major cities in Algarve and Lisbon to Faro.
You can also travel by a ferry in some areas. Or you can fly to Algarve.
In-depth topic on getting around Algarve is here.
FAQs
What are the benefits of renting a car in Portugal?
Renting a car in Portugal has many benefits, including the freedom to explore the country on your own terms, the convenience of being able to pick up your rental car at major airports, the ability to save money by finding cheaper accommodations with free or cheap parking, the freedom to set your own itinerary and travel at your own pace, and the ease of navigating Portugal's road system.
Renting a car allows you to access off-the-beaten-track destinations. And, if you are traveling as a group of two or more, renting a car is often the most cost-effective and comfortable option.
Finally, for motorbike and scooter enthusiasts, there are several rental outlets which offer competitive prices for both daily and multi-day hire.
Is driving in Portugal easy?
Driving in Portugal is easy because of good roads and generally light traffic. Keep in mind, Police checks are rather common, and you must wear seat belts and not use phones while driving, by law. The speed limits are 120 km/h on highways, 100 km/h on the main roads, and 50 km/h on smaller roads.
How to get to Portugal without flying
There are several ways to get to Portugal without flying. Depending where you are coming from, you can take a ferry, or a train or a bus (from Spain).
Here is the list of all the options:
1. By car: You can drive to Portugal from most European countries. The journey may take longer, but it can be an enjoyable experience.
2. By train: Several international trains connect Portugal with Spain and France. You can take a high-speed train from Madrid or Paris to Lisbon or Porto.
3. By bus: Several bus companies operate services to Portugal from Spain and France. The journey may take longer, but it is often cheaper than other modes of transport. Here are all major bus companies in Europe. A lot of them have bus connections to Portugal.
4. By ferry: You can take a ferry from several ports in Europe to Portugal. The port of Lisbon is the main hub for ferry services in Portugal.
5. By train and ferry: You can take a train to Spain and then take a ferry to Portugal. The ferry service operates between several ports in Spain and Portugal.
6. By car and ferry: You can drive to a port in Spain or France and take a ferry to Portugal. The journey may take longer, but it can be an enjoyable experience.
Are there any special considerations for travelers with disabilities in Portugal?
Yes, there are. When traveling in Portugal, it is important to keep in mind that some of its transportation infrastructure is not well-equipped to deal with those with mobility disabilities. In particular, many train stations lack ramps, and some trains have interior steps that make access difficult.
Porto is the most accessible city for wheelchair users, as nearly all metro stations have ramps, elevators and dedicated spaces for wheelchairs onboard the trains. So, if you have mobility disabilities, Porto should be your destinations.
Lisbon is less accommodating, as there are fewer elevators, and they are often out of service.
Do your own research or contact travel operators, specializing in trips for people with mobility disabilities, when considering a trip to Portugal.
In conclusion, Portugal has a variety of transportation options available, each with its unique advantages and almost all - inexpensive. Ultimately, the best way to get around Portugal will depend on your budget, your travel itinerary, and your personal preferences.
Whether you opt for the convenience of a train or bus, the freedom of a rental car, the eco-friendliness of a bike, or the pleasure of traveling by water, you will have a wonderful experience exploring Portugal's cities, countryside and coastlines!
Let's connect on social media - I have many more stories to tell! The links are below.