Is Kiwi.com safe for Booking Flights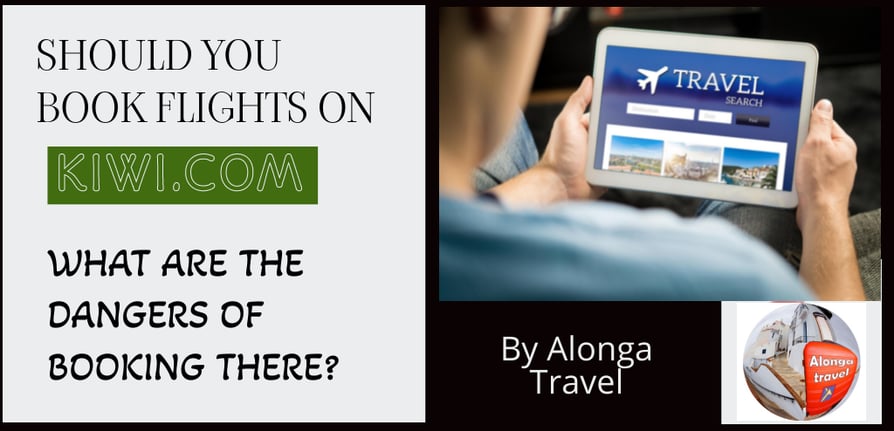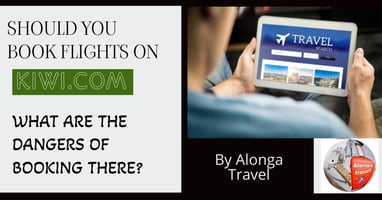 Is kiwi.com safe for booking flights? It depends on your circumstances.
Booking flights with kiwi.com can be safe. But kiwi flights may not always be reliable (with returns), or trustworthy, or not even the best value!
However, it could be the best value if you follow my trick, and planning to keep your plans.
Kiwi cheap flights could also give you the best value if you are a light traveler without checked bags.
This article will probe into all aspects of booking with Kiwi.com. I will also review my personal booking experiences (with screenshots) on kiwi.com.
This post aims to explain common concerns about Kiwi flights site, its safety, what it offers. It also explores if Kiwi.com is truly the cheapest option (it could be!), and how to avoid inflated prices to get the best deal.
Hello, I am Tatiana—an architecture addict on a quest of discovering the hidden gems of Europe. Check out my in-depth travel tips and reviews of the best European destinations and city breaks. Let's connect on social media!
What is Kiwi travel flights?
If you are looking for cheap flights online, you will see Kiwi.com, a flight booking service that claims to offer the best deals by combining different airlines. But is Kiwi.com legit, safe and reliable for booking flights? Is it really the cheapest option? Or should you avoid booking with them? It depends on your travel specifics.
Let's compare when it's good to book through kiwi to save money on your flight, and when you will be better off booking with the airline directly.
Let's start by examining the basics.
So, iS Kiwi.com safe?
Kiwi.com is safe in the sense that it is a legitimate company that sells flight tickets and uses secure portal to protect your data. But it is not safe in the sense that it will try to hike up the price, if you have checked luggage.
Kiwi flights might also not be safe, if you need a refund.
This also answers the question below, if kiwi legit.
Is Kiwi.com Legit?
Kiwi.com is a legit online travel agency founded in Czech Republic in 2012. But it has some questionable return policy & other practices (while still doing this legally). It might not always be trustworthy (read below), but it's legit! So, no worries about using your credit card on their site or getting a malware!
Is kiwi.com ATOL protected
No, Kiwi.com is not covered by ATOL, because it's inapplicable for this regulation. ATOL only applies to companies based in the UK and not those located overseas. Read more about ATOL below, and read about where kiwi flights is registered here.
What is ATOL
In the UK, all companies selling package holidays must have ATOL membership as it is a legal requirement. Package holidays covered by ATOL include those that involve booking flights along with accommodation and/or car hire as part of a package.
ATOL membership also provides coverage for certain Flight-Only bookings sold by UK travel companies in the event that they cease trading as an ATOL holder.
However, it is important to note that ATOL only applies to companies based in the UK and not those located overseas.
Kiwi.com is a Czech Republic registered company, operating online, and ATOL is inapplicable for this regulation.
Read more about ATOL protection and what it covers here.
Why is kiwi.com cheaper?
Kiwi.com usually finds cheap flights (but not always the cheapest final price you pay!). How does Kiwi do that?
how kiwi.com finds cheaper air price
Kiwi.com uses unique algorithm to find the cheapest flights for you. It lets you book flights with multiple carriers all in one trip for a cheaper price.
Kiwi does it because it combines tickets from different airlines that might not normally work together.
This lets Kiwi.com find cheap flights and flight combinations that most other websites and booking apps just can't.
The unique proprietary algorithm kiwi flights use is called Virtual Interlining.
The reason some airline don't normally work together is because they may not have codeshare agreements. But it doesn't matter to Kiwi. The company BUYS the tickets and then resell them to you in any combination it wants.
So, great, right? Not so fast. First, let's address the trust issue some people are having with kiwi.com (myself including).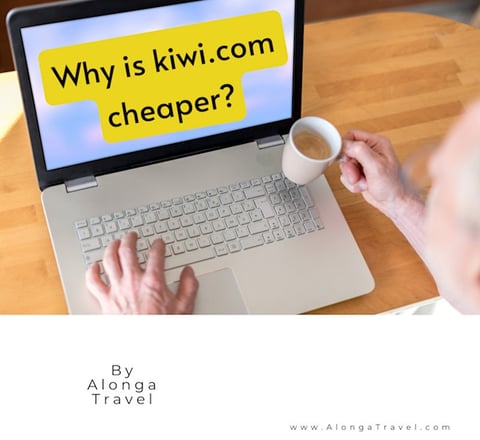 Is kiwi. com trustworthy?
If your real question is 'can Kiwi.com be trusted', then the answer is - it depends. Mostly - yes, but not always, so read on.
Kiwi.com claims to offer cheaper prices than booking directly with the airline in most cases. But as discussed above, the statement that kiwi.com about its price being cheaper is not always true.
Often, booking directly with the airline can be cheaper than with kiwi flights. Airlines also offer more benefits, such as free (or cheaper) baggage allowance, seat selection, loyalty points, etc.
It will depend on your circumstances and your travel bags, so let's look at all possible scenarios to see where kiwi.com can be trustworthy for your case, and when it was NOT trustworthy in my case, so the same could happen to you.
Now, if kiwi.com didn't have positives, I would just advise you to avoid. But kiwi flights has some attractive features for booking a flight and can safe you money!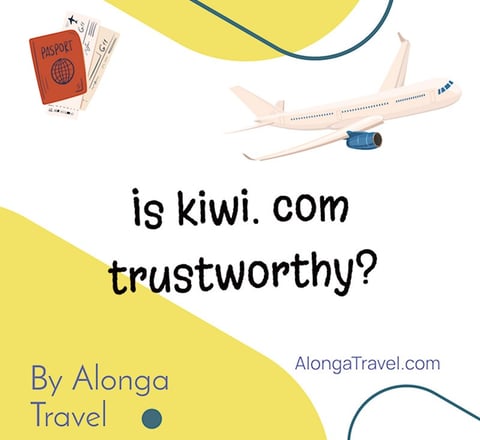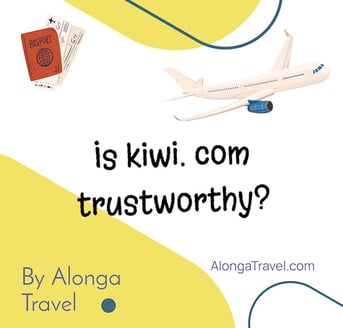 So, is Kiwi.com safe to book flights?
Kiwi.com is safe to book flights in the sense that it is a legitimate company that sells flight tickets and has millions of customers worldwide. It also uses secure payment methods and encryption to protect your personal and financial data.
Is kiwi.com reliable?
Kiwi.com is reliable in their automated e-mail support after you bought a ticket from them.
So, it's reliable in a sense it provides you with all the information and instructions you need to complete your trip.
It provides you with automatic check in, boarding passes, confirmation codes, terminal numbers, etc.
You can access them through the Kiwi.com website or app. Though many complained about having a hard time contacting kiwi.com representatives.
But are they reliable about refunding money to you if the trip is canceled? It depends. Read about it below.
Booking a flight with kiwi.com
Kiwi flights: when it's good to use it for booking
Air tickets are getting more expensive, and to save money you might want to book a flight with kiwi fights. Kiwi.com offers a wide range of flight combinations from various airlines, allowing you to find the best prices and routes.
Booking a flight with kiwi.com often makes sense for a budget traveler or anyone who doesn't want to overpay for his flight.
it's good to use kiwi for booking because of:
Search Radius: You can no longer search for flights to or from a specific city or country by drawing a circle on the map, but you can do the same by choosing the '250 km from "your city" option.'

Fly Anywhere: You can enter "anywhere" as your destination and see the cheapest flights to various places around the world.

Instead of 'anywhere' you again can add "250 km from "this city" option.'

booking on kiwi flights saves money on normally too expensive one-way international flights.

Kiwi price lock. Kiwi flights let you use 'lock in the cheap price' you found for 3 days (cost- €10), if you need more time to pay.

Multi-city Feature: You can plan complex trips with multiple stops and destinations with ease.

Date Range: You can search for flights within a flexible time frame and see the best prices for each day, or by adding '-/+5 days'

Nomad future. This feature, when chosen, shuffles the destinations to create an itinerary for you: you suggest cities, it chooses the best days for the flights. It also offers to combine flights, buses, and trains.

Price Alert: You can set up notifications for when the price of your desired flight drops or rises.
When you are booking an air ticket with them, you are not buying directly from the airline, but from Kiwi.com itself. Kiwi.com acts as a middleman between you and the airline, and issues you a separate ticket for each leg of your journey.
However, watch out for 3 scams below kiwi might employ, but you can prevent them if you know about kiwi scams in advance.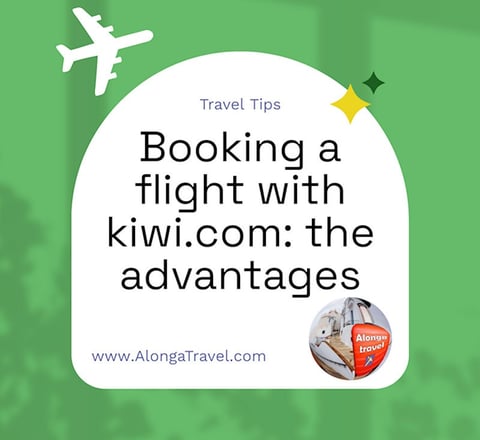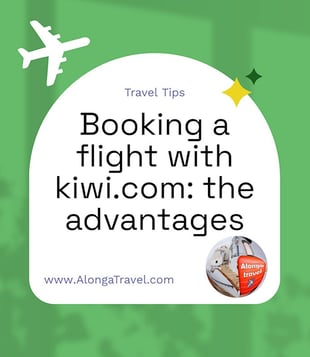 Why visit Espluga de Francoli in Catalonia
Negatives of booking flights with Kiwi.com
Booking with kiwi.com carries some risks that you should be aware of, such as:
Flight Changes or Cancellations: If your flight is changed or canceled by the airline, kiwi.com may not be able to offer you a suitable alternative or a full refund. You may have to pay extra fees or accept vouchers instead of cash. You may also have to deal with poor customer service and long waiting times to resolve your issue.

Missed Connections: If you miss your connecting flight due to delays, bad weather, or other reasons, Kiwi.com may not be responsible for rebooking you on another flight or covering your expenses. You may have to buy a new ticket yourself or rely on the Kiwi.com Guarantee if it applies.

Extra Costs: Booking with kiwi flight may involve extra costs that are not included in the initial price, such as baggage fees, check-in fees, visa fees, airport transfers, etc. You may also have to pay more taxes or fees if you book flights in a different currency or country than your own.
Now, it's reasonable to expect that baggage fees might be extra, and no one argues with that. However, Kiwi.com also uses some questionable practices lately, that I want you to be aware of.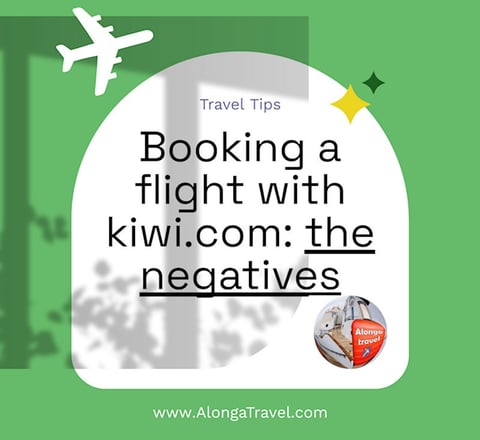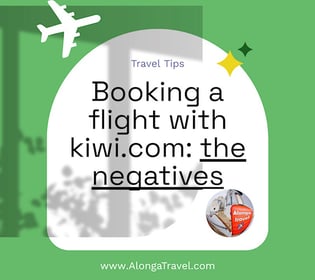 Kiwi.com scams
Yes, kiwi often offer the cheapest air ticket price, but they'll try to scam you by charging 2-3 times more for an extra baggage if you need it. And it is easy to need an extra baggage when all airlines tightened their restrictions on the allowable free cabin bags.
Kiwi scam #1 - overcharging for baggage
How will Kiwi.com overcharge you? Well, they offer a complimentary service of automatically checking you in 3 days before your flight. Then, or maybe right after you bought the ticket, they will send you an email, offering you to manage your booking.
And if you want to add an extra bag, they'll offer you a €59 fee for checking your bag or one extra cabin bag. You have no other choice but to agree, as they don't offer Up Front or Extra Legroom tickets, as Easy Jet website (or another airline) does.
I got taken advantage of twice (that I know of)! After which I decided to investigate and compare how much it would cost me to add the bag directly from the EasyJet website.
I don't know if it was by design or not; it took EasyJet a long time to find my reservation by reference numbers provided by the Kiwi website. I was informed that EasyJet can't find my flight, and if I bought my air ticket from a 3rd party site (like Kiwi.com), I should go there to manage my trip.
Here I just listed another danger of booking on third party booking sites—difficulty to manage your trip on the flight airline site!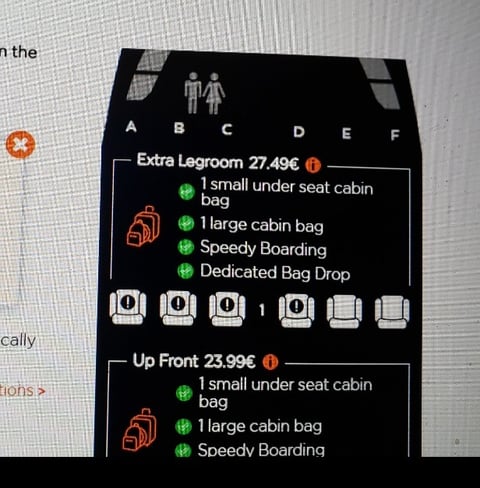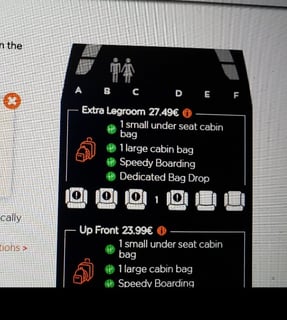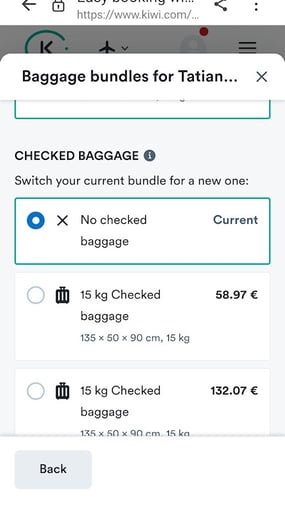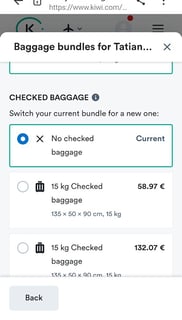 Extra Legroom offering by Easy Jet for 27 euro
59 euro bundle from kiwi.com for less perks than 27 euro bundle on EasyJet
But I persisted through clicking on different links and finally made EasyJet find my flight.
And the first thing EasyJet website has offered me was €27 Extra Leg Space ticket fee, where I get to have an extra space for my legs + choose a seat for free + bring a large carry-on besides the 1 offered for free without paying!
So, all these listed above extra perks for €27! Or, even - all the above but minus extra leg room - €24 for an Up Front ticket on EasyJet. While Kiwi.com wanted €59 for just one extra bag, & no other perks! So, Kiwi.com was trying to charge me €35 (more than twice) more than I would pay on the airline website.
But that's not the only way they scam you…
Kiwi.com scam #2.
Second scam is not showing you paid bags on your phone app to make you pay for it again
Another scam by Kiwi dot com is not to show you your paid bag you already paid for when you booked your air ticket! Kiwi will send you an email upon automatically checking you in, where they will only list your one free small cabin bag, and the extra bag you're planning to check in and already paid for during the ticket purchase through them is not listed.
Now, if you bought your air ticket in advance, do you remember if you already paid for the extra bag you are planning to check in, or not? I didn't—and paid for the bag again.
And then, when you already paid for the same bag again, they send you a new email, where they show that you have 2 paid bags to check in! When you already need one! And it's too late to do anything about that, you already paid!
Good luck reaching them and demanding a refund, or explaining to your bank why you want to dispute the transaction!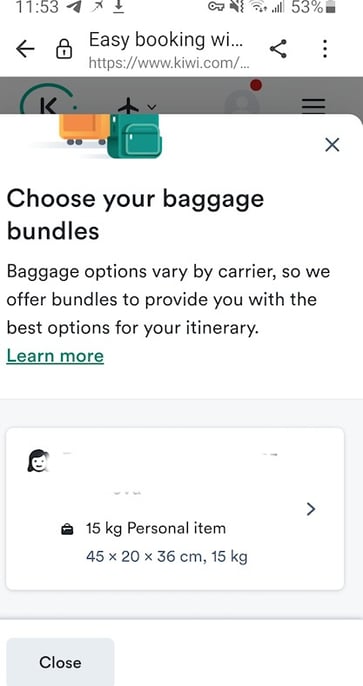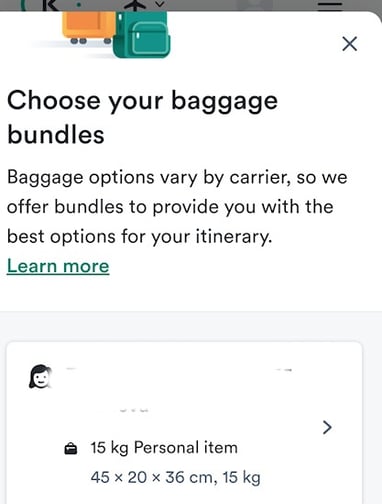 Kiwi. com scam #3
Kiwi.com not refunding you money that the airline paid them when they cancel your flight
Here is the 3rd questionable practice of kiwi.com!
If your flight was canceled by the airline, you're entitled to a full refund. The airline refunds the 3rd party booking agency, Kiwi in our case, the money. They are supposed to refund you that funds immediately.
Except, that doesn't always happen!
Read through kiwi.com reviews.
Kiwi.com reviews flights
There are so many complaints about that and many bad reviews about kiwi.com! In fact, kiwi.com was rated only 1.7 starts on Trustpilot.
TripAdvisor also has over 6,000 complains about Kiwi.com, you can read about some of the TripAdvisor complaints here.
That is because while air ticket purchases on kiwi.com supposedly come with 24/7 customer support & the Kiwi.com Guarantee, but it seems it's not always the case.
Now, the disclaimer. I, personally, never had to claim a refund with Kiwi.com. I am only aware of this problem that some people were having from their reviews. I did have a firsthand experience with the 1st, and the 2nd scam.
So, above are the 3 scams by Kiwi.com to watch out for.
Do your math! I did mine, and, while I might still buy air tickets from Kiwi.com in the future if I see a great deal on a one-way air ticket (without the extra bag during the ticket purchase), I will make sure to go to the EasyJet (or whoever) website 30 days before a flight and add some extra perks, including a paid baggage.
FAQ
What is the Kiwi.com Guarantee?
The Kiwi.com Guarantee is a service that covers you in case of flight changes or cancellations by the airline, or missed connections due to delays of more than 1 hour. It only applies if you book all your flights under one itinerary with Kiwi.com.
The Kiwi.com Guarantee offers you the following benefits:
Alternative Flight: Kiwi.com will try to find and book you an alternative flight to your destination as soon as possible, at no extra cost to you.

Accommodation: Kiwi.com will cover the cost of accommodation for up to 2 nights if you have to wait for your alternative flight for more than 8 hours during the day or 4 hours during the night.

Food and Drink: Kiwi.com will cover the cost of food and drink for up to 3 meals per day if you have to wait for your alternative flight for more than 4 hours.

Transport: Kiwi.com will cover the cost of transport between the airport and your accommodation, or between different airports if needed.

Refund: Kiwi.com will refund you the full price of your original ticket if you decide not to take the alternative flight offered by them.
The Kiwi.com Guarantee does not cover you in case of:
Personal Reasons: If you cancel or change your flight due to personal reasons, such as illness, injury, death, etc., you will have to follow the cancellation or change policy of the airline and pay any fees or penalties that apply.

Force Majeure: If your flight is affected by force majeure events, such as natural disasters, wars, strikes, etc., you will have to follow the policy of the airline and Kiwi.com will not be liable for any compensation or assistance.

Fraud or Misconduct: If you provide false or misleading information, misuse or abuse the service, or violate any terms and conditions of Kiwi.com or the airline, you will lose the benefits of the Kiwi.com Guarantee and may face legal action.
Trip refund options when booking with kiwi.com
Your refund options depend on who canceled the trip, whether it was the carrier or you.
It also depends on whether you have the Kiwi.com Guarantee, particularly in cases of trip cancelations by the carriers. For more information, you can visit the Kiwi.com Guarantee page.
How to Claim the Kiwi.com Guarantee?
If you need to claim the Kiwi.com Guarantee, you should contact Kiwi.com as soon as possible through their website or app. You will need to provide your booking number, flight details, and proof of your expenses (such as receipts or invoices).
Kiwi.com will review your claim and process it within 14 days. You can check the status of your claim online or through their app. You can also contact them by phone, email, or chat if you have any questions or issues.
kiwi vs Skyscanner and omio
Kiwi.com is an Online Travel Agency (OTA) that handles ticket issuance, customer support, and bookings directly on their website.
Skyscanner and Omio.com, on the other hand, are meta-search platforms that compare prices and redirect you to partner websites for booking.
Use Skyscanner and Omio if you prefer the flexibility of comparing prices on meta-search platforms and then booking directly with airlines or other providers.
Buying air ticket directly from an airline is better than booking through a third party agency.
In general, the best thing is to buy a ticket from the airline directly, rather than book through a third party agency, like kiwi.com. That is if the airline's website is not malfunctioning! (sigh… looking at you, EasyJet!)
Not only will you have the easiest time changing the ticket if you need to (and your fare allows it), you will also be offered different perks, like pre-paid food + an extra bag, direct flights, which still could be cheaper than the extra luggage alone from the 3rd party on-line agency.
Final Thoughts. Is Kiwi.com Worth It?
Kiwi.com is worth it if you are looking for cheap flights and don't mind taking some risks and inconveniences. It can help you save money and time by finding combinations of flights that other websites cannot.
It can also offer you some protection and assistance in case of flight disruptions with its Kiwi.com Guarantee.
However, kiwi.com is not worth it if you prefer booking directly with the airline and having more control and security over your trip.
It can also cause you more problems and expenses if your flight is changed or canceled by the airline or if you miss your connection.
Kiwi flights can also have poor customer service and hidden fees that may ruin your experience.
Therefore, before booking with Kiwi flight you should weigh the pros and cons carefully and decide what matters more to you: price or convenience. You should also read the terms and conditions of Kiwi.com and the airline carefully and compare prices and options with other websites.
In conclusion, kiwi.com is safe in the sense that it is a legitimate company that uses secure payment methods and encryption to protect your data. But it's not safe in a sense that it will try to hike up the final price. But is always advisable to compare prices and conditions before booking with Kiwi.com or any other website.
I hope this blog post has helped you understand more about Kiwi.com and whether it is legit, safe and reliable for booking flights!
Let's connect on social media; the links are below in the footer.