let's connect on social media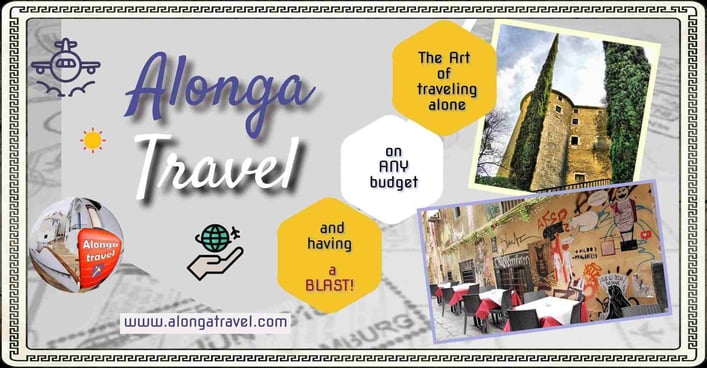 How to travel
ALONE
AND HAVe
A BLAST
ON ANY BUDGET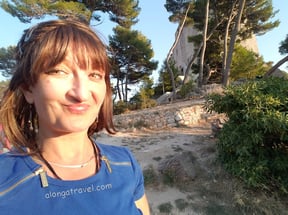 If you would like to know more about me, you can read my story on about me section of this blog.
Alonga Travel is a solo female blog aimed to inspire to travel alone to European destinations and have a blast with travel for solo tips for all budgets.
My solo trips are always so wonderful I feel the need to share with others how to have a similar travel experience, traveling alone! Because traveling is wonderful! It took me a long time to start traveling alone, as I had fears. I hope I will help you to conquer yours!
My travel tips work for both male and female solo travelers. Yet, solo traveling for women has some specifics, with comfort and safety being of the most importance. So, I will focus on some topics about How to travel solo as a woman specifically.
Dear couples, please, do not leave just yet! Couples can benefit from Travel Tips section of this blog. And your guy will especially appreciate how to pack light section! Unless he enjoys dragging heavy suitcases of yours up the stairs for exercise? In that case maybe pack a few weights in your bag, to make things even more fun for him?; )
And once you start traveling often - you will slide into an intentional travel lifestyle, even if you have a full-time job in your hometown. You will reconsider many of your values and importance of different things. And you will strive to simplify your life, because you will learn what matters to you the most, and you'll start living intentionally. And I will introduce to you quite a few unconventional ideas for that.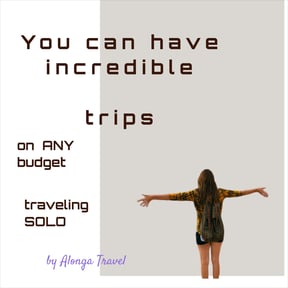 let's connect on social media



Watch highlights of this webpage
How to make you dream of traveling The reality By Traveling Solo
You can travel on ANY budget and have better travel experience solo than traveling with a wrong partner, So take that trip!
WHY Traveling the world remains just a dream for most people
Traveling the world… What a wonderful dream for most! However, for many people it remains just that — a dream!
Why is that? Let's see… Maybe you believe it is too expensive to travel, and you can't afford that.
Or your dilemma might be not the funds, but the lack of a travel companion, and you are afraid to travel alone.
Or, maybe… well, I can't think of any other reasons not to travel, because WHO would not want to visit another country, right?! ;)
How to make travel affordable and travel on any budget
What if I try to put your fears to rest based on my experience? I will not give you ideas on how to save money for your trip here, but I will show you how to make your travel affordable in my Travel Tips section! You will be able to travel on ANY budget after that! Yes - ANY!
I will share with you all the travel tips, tricks and travel hacks I know, and I know plenty! If you use these travel tips, you might even squeeze an extra trip or two the same year! Because we should use any money left for another trip, right? :)
You
will get better experiences traveling solo than with a wrong partner
And about your worries of traveling solo?.. While it IS great to have a very compatible travel partner, solo travel is not only not less enjoyable than traveling with a partner, but you will get more interesting, authentic, and unforgettable experiences solo! Yes, one can have better experience solo traveling than traveling with a wrong (or just not the best) travel partner!
You will travel at the time that works well for YOUR schedule, saving yourself money on an off-season or shoulder season travel. No more waiting for someone to go with you during the holidays everyone takes at once, with airfare being triple of what you can get!
Add into equation the fact that you'll be able to go where YOU and not someone else wants to go and all the potential fights with people you will miss! 😉 and your next solo trip already looks very desirable, isn't it?:)
A collage of Some pictures from my travels
subscribe to my Instagram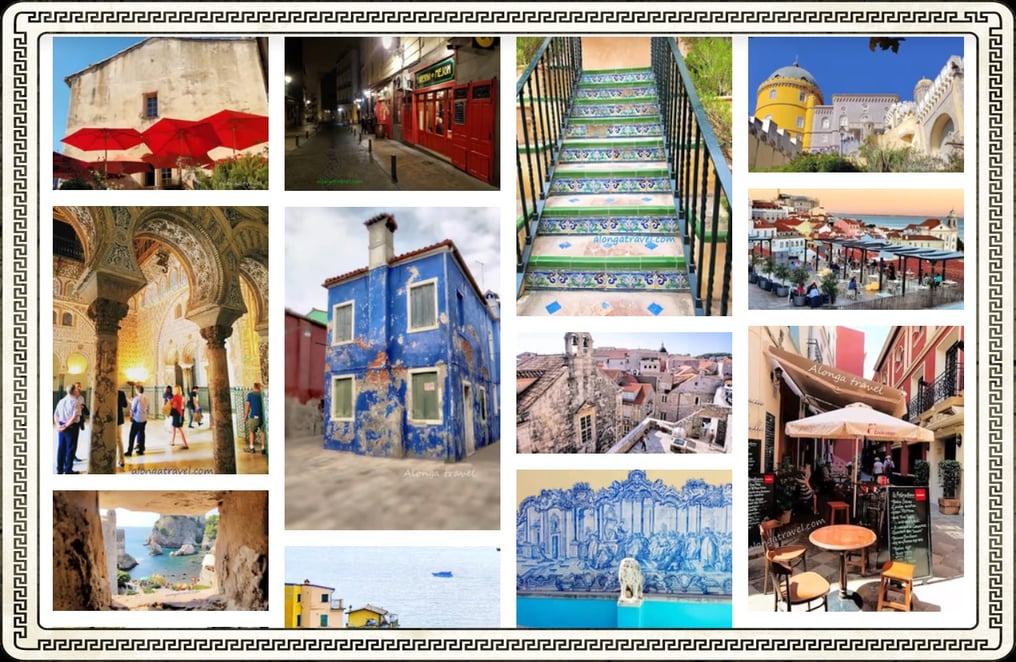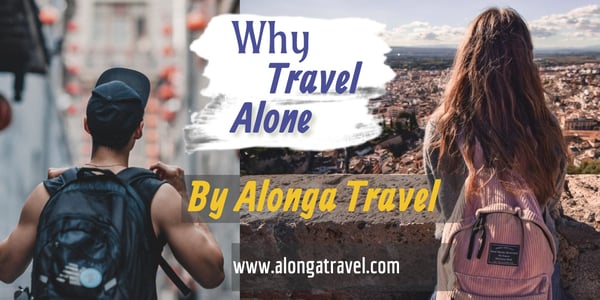 Why Travel Alone
There are many reasons to travel alone! It's fun, it let's you immerse in your experiences deeper without distraction and it builds believe in yourself. Read more bellow.
Travel alone is fun!
You should travel alone because it is FUN! Yes it is :), I will show you why!
Coordinating with someone else's schedule is exhausting! Traveling alone can bring you sanity!
Besides, traveling alone liberates you, helps you become stronger and more independent. It helps you find that permanent belief in yourself that will change so many things in life for you, including your relationships with people.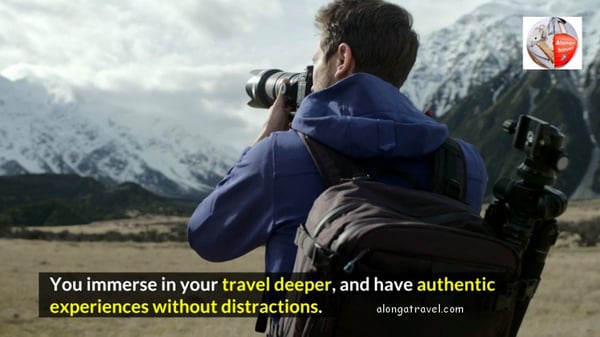 authentic experiences without distractions.
Have you noticed how after returning from some trip with your friends or a special someone, you now have so many fun or romantic memories of the things you did together, the shared laughs, conversations, etc.
Or maybe it was a mixed trip because of your companion's behavior.
Yet if someone asks you on what street your hotel was on, or which particular museums you went to, you would not remember!
Why is that? Because you were putting a lot of your attention on your companion.
But when you travel alone, your attention rests on objects and scenery around you. You immerse in your travel experience deeper, as you focus on subjects in front of you, having authentic experiences without distractions.
Not only you have better experiences during your trip, but when you put your attention on something consciously, that creates the best memory path in your brain and you remember the experience longer.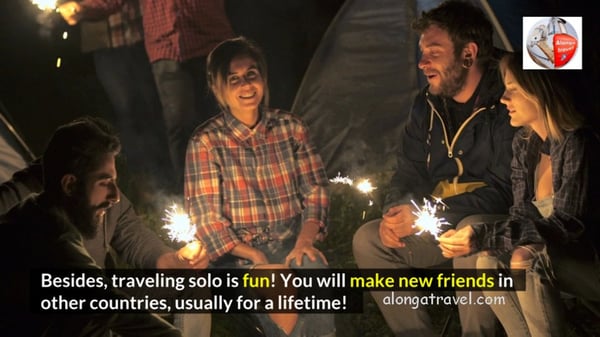 You will make new friends!
You will chat to other people around you, and they will approach you in ways they never would have you had someone by your side. You will make new friends in other countries, usually for a lifetime! You have bonded deeply, as you had such an unforgettable experience together, as most experiences at some unfamiliar place are pretty special! And you already have so much in common - you both like to travel! What else to ask for in your new friend?;)
You will have an absolutely amazing experience! And that is why it's good to travel solo regularly, or at least sometimes!
Interesting fact: do you know that many people travel alone, even if they are in a steady relationship or married? Not everyone can coordinate their schedules. Besides, having some harmless but great experiences outside of your relationship just strengthens your relationship!
W
ill I feel lonely on my solo trip?
Perhaps there will be a few moments, but you most likely have them at home as well? So this is closely connected to how not to feel lonely when alone topic, which we will discuss later.
If you follow my advice about how to avoid feeling lonely while traveling solo - the moments of loneliness will be very short-lived, if any. And the constant exhilaration you will feel from all your explorations will outstrip any negative feelings by far. Besides, traveling solo doesn't mean you have to be alone all the time! There are meetups, walking tours, organized daily trips and people on the streets to meet and talk to!
What are the popular dating apps to find friends out there?
A lot of people use dating apps to find friends. Yes, dating apps are not JUST for dating anymore!:) You can use them for dating as well, obviously! The most popular are FRIENDER APP and THE BUMBLE BFF APP. More about this on female solo travel page, at the bottom of the page.
I meet new people who become fast friends during my travels all the time, and I rarely even go to pubs or when travelling! Just be friendly and approachable if you feel like talking to people and smile a lot.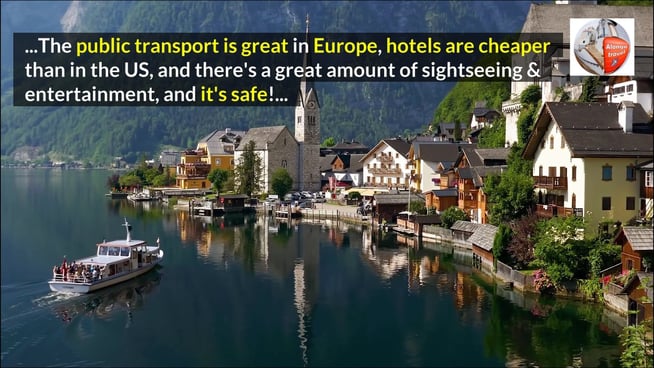 The best places to travel solo.
Europe is the best place to travel solo hands down. The countries are compact there, the public transportation is the best, the accommodations are much cheaper than in the US and it is safer than traveling to Asia. There is also an abundance of museums, food stores, and live music and nightclubs for a solo traveler nightly entertainment. Read my European destinations section.
And Europe is definitely the best place to travel solo for a female in particular for the all listed above reasons.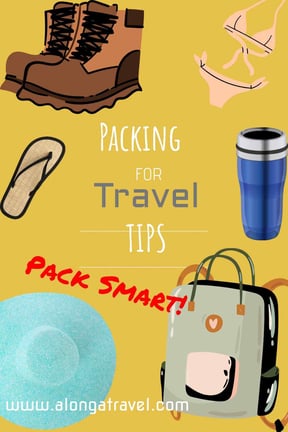 Packing for travel tips
Another aspect of your trip, that is very important for the enjoyment of your trip, especially for women traveling solo, is your travel luggage and your travel gear, and how to pack them right.
If you brought good quality travel gear with you and packed for travel with my packing for travel tips - you will be comfortable on your solo trip.
Guys can sometimes get away with packing 5 minutes before the trip and still have a great time. I do NOT advise using his approach if you are a female, though! 😉
For the rest of you - I even have my very own packing for travel hacks, that will save you money on not checking your luggage.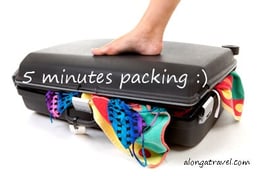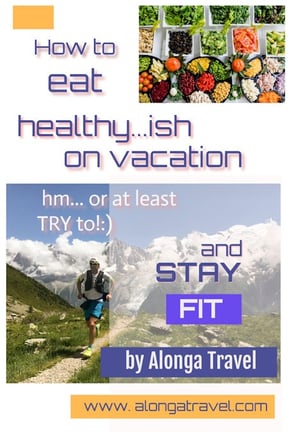 How to eat healthy on vacation and stay fit.
Why worry about staying fit on vacation at all? Because unused muscles become weak after 2-3 days and weak muscles mean having muscles pain. But you can avoid it with only 10 minutes a day efforts!
I will also share with you how to eat healthy ...ish! on vacation without breaking a bank. With you planning to see and do a lot, you will need the best energy level to make your travel experiences unforgettable and eating right is a huge step toward that.
And yes, it's OK to cheat a bit and try every possible delicious pastry or whatever else from the local cuisine. In fact - you MUST do that! :)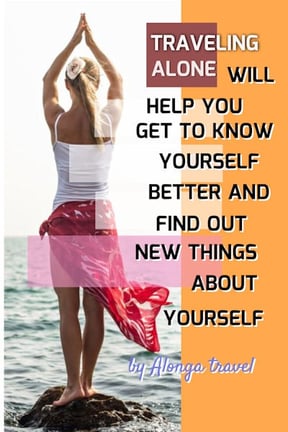 The best Benefit of Traveling Solo

Traveling alone will help you get to know yourself better and find out new things about yourself.
Becoming solo traveller helps you realize you do not NEED anyone to be happy. That doesn't mean that you will not appreciate someone special in your life. It only means that when you are happy regardless of who is or isn't in your life, your life becomes very sweet!
And with your fresh energy of content–-you will now attract partners to you like never before. That is, if you want to change your solo life. But maybe you don't! Or maybe you are in a relationship and traveling alone simply because it is good for your relationship to take time apart or your partner couldn't go!
Never give in to pressure to do what someone thinks you should do with you life. Do what is best for YOU and feel good about your choices!
Working remotely
Considering working remotely? And maybe even becoming a digital nomad and traveling full time?
Please read my working remotely section of this site. The world changes toward the remote working lately, making becoming digital nomad more achievable.
I hope you are all energized to plan a solo travel trip now! :) For more information, read other sections of my blog, subscribe to my periodic emails and let's connect on social media!
Traveling on low budget (almost free)
Now, I did tell you you can travel on ANY budget, even if you have the tightest budget, right? And no, I am not talking about using credit card points here. You don't need to be rich to travel!
HELPEX
Have you heard about this company helpx? They invite volunteers to work around 4 hours every day (or 8 h every other day) in exchange for free accommodation and free food. The membership there is $20 and is good for 2 years. I have personally met 2 people who got a placement through this organization and who highly recommended it to me.
Housesitting
Housesitting allows you to stay in other people's houses for free. Usually, taking care of their pets as well. Trusted housesitters is an excellent and reputable company for that.
You will be responsible for your own visa, but there are ways to go around allowable staying limit of 3 months by moving between deferent countries. Sounds fun, isn't it?;)
Let's connect on social media!
If you would like to support my work, that would be greatly appreciated! Thank you!
Subscribe to my periodic newsletter and never miss my latest post
Copyright © Alonga Travel 2021