Exotic Garden or Le Jardin Exotique Eze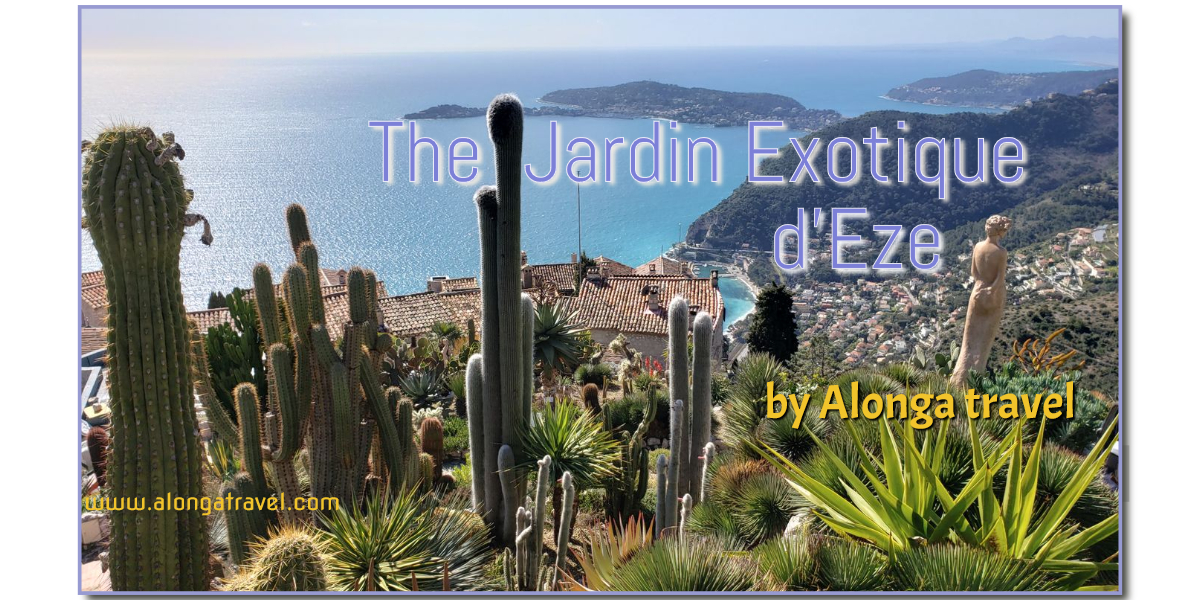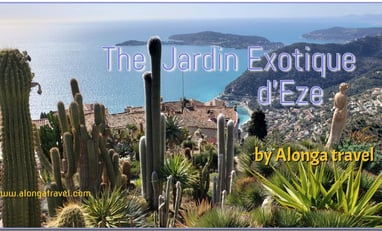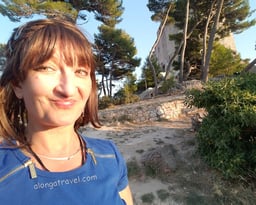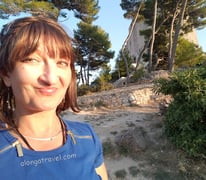 Exotic garden or Jardin exotique Èze is a hilltop garden of cacti and succulents, with stunning views of the French Riviera in Cote d'Azur. I explain here what to expect from visiting, which plants grow there, and the best ways to get there.
Images and video of Exotic Garden or Le Jardin Exotique Eze
Hello, I am Tatiana—an architecture addict fascinated with beautiful old buildings and discovering the gems of Europe. Check out my comprehensive travel tips and reviews of the best European destinations and city breaks. Let's connect on social media!
Exotic garden
Exotic Garden or Le Jardin Exotique D'Èze (Eze), is located on the site of a crumbling medieval castle high above the Mediterranean Sea, in Alpes-Maritimes, Provence-Alpes-Côte d'Azur, France.
It offers the most spectacular views of the French Riviera all the way to the Esterel Mountains.
It overlooks the charming medieval village of Eze, where locals built their houses close to the fortress for protection around the 12th century. The ruins at the top of the exotic garden are from 220 BC, when the local population settled for protection high up the hills and later turned it into a fortress. The fortress and later the medieval castle, was destroyed in 1706, during the Spanish Wars.
History of Eze exotic garden
Exotic Garden or Le Jardin Exotique d'Eze was started after the World II, when André Gianton, the mayor of Eze at that time, decided to start the exotic garden on the southern slope of the hill.
That side was protected from the north winds and had good drainage, so it was decided to be the perfect site for planting succulents.
The decision to create something as extravagant as an exotic botanical garden was a big deal back then and the sign of the renewal and the end of the dark war years.
Assistance by Jean Gastaud
André Gianton was assisted by Jean Gastaud, the creator of the Exotic Garden of Monaco - the best exotic garden in the world!
They led many men to carry bags of soil on their backs. The lack of water was making their work even harder! It was a hard labor, and they were very dedicated. No one used helicopters for dropping off plants and supplies back then.
This jewel of the Cote d'Azur views wouldn't exist without them!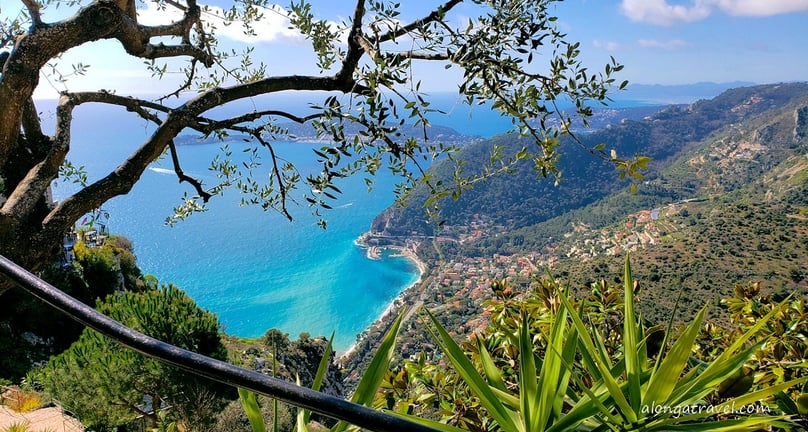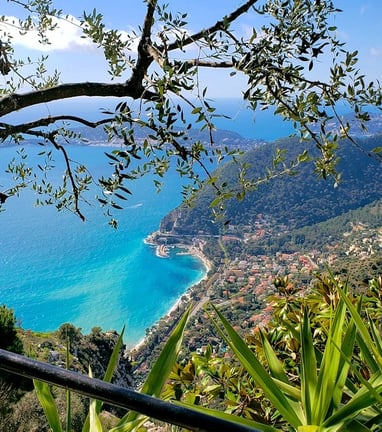 Eze gardens
There are 3 areas in Eze Botanical Garden, divided into 3 gardens according to the type of soil and exposure, each with a separate type of vegetation; exotic, Mediterranean and subtropical.
South Eze garden
Since the south facing side of Eze Garden is well protected from the north winds and has good drainage. So, the south side is where the exotic garden and its collection of succulents and cacti from North America, South Africa and Mexican deserts grow.
North Eze garden
The north side of Eze Gardens shelters plants from the Mediterranean sun and it has some water fountains and houses plants from more humid regions. You can find myrtles, rockroses, arbutus and other euphorbias. You can also find ferns, hostas and agapanthus from South Africa.
New Zen Eze garden
There is a new addition to Eze Garden - New Zen Garden with new waterfall, surrounded by many spices of tropical and subtropical plants, with chairs to sit and relax.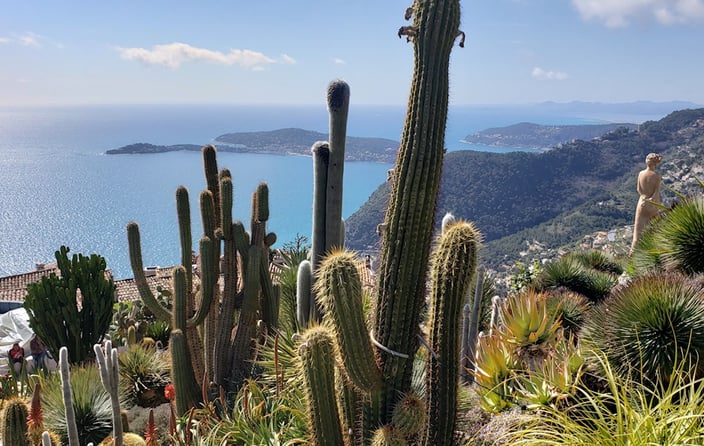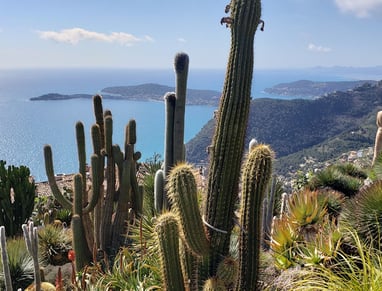 WHAT PLANTS grow IN JARDIN EXOTIQUE D'EZE?
You can see plants from all over the globe in the JARDIN EXOTIQUE D'EZE ; agave, aloe, euphorbia, grusonii, agapanthus, cereus and some other plants.
For more details on the plants of the Eze Garden read here or at the bottom of this page.
Educational walk through the Exotic garden
Visting Exotic Garden is not only pleasant, you also learn the names of each plant on the walk through Jardin exotique; there are name plates with barcodes in front of the plants. You can scan the barcodes and learn more about the plant, so it's very educational!
You will also find plates with historical descriptions along the path.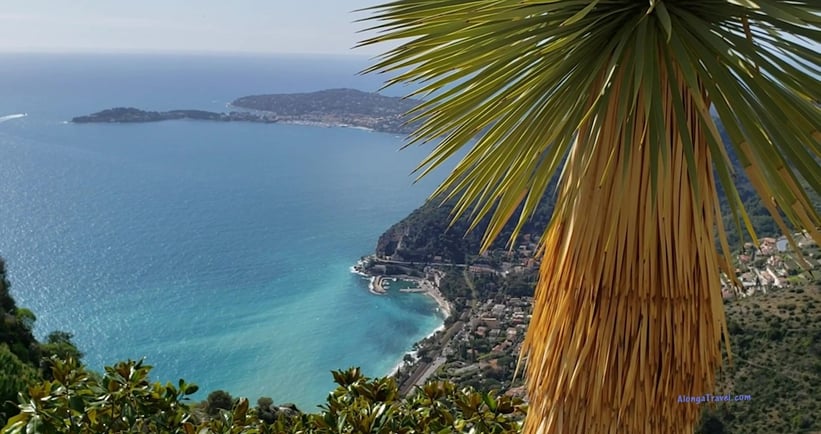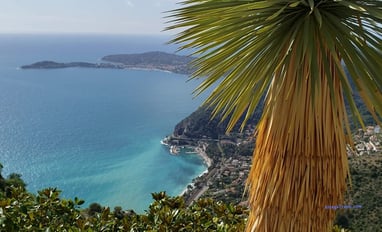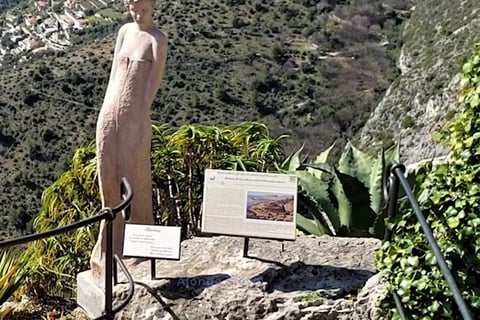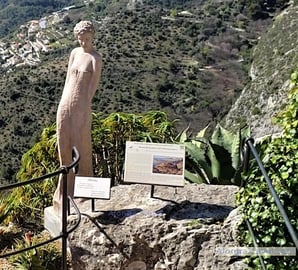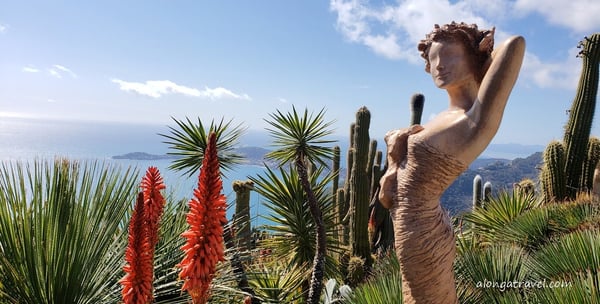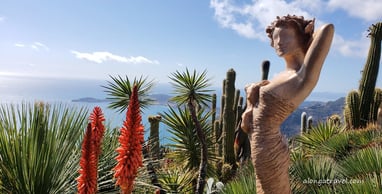 The women statues of the Èze Garden
I loved walking in the garden, admiring the stunning views in solitude and nodding to the beautiful elegant tall women walking around in solitude as well… I felt Girl Power?
OK, the sirens were mostly standing, and not walking much. They were actually the sculptures of Earth Goddesses made by French sculptor Jean-Phillipe Richard of clay and bronze.
But I felt the comradery! :)
The second figurine even wrinkled at me and passed me a note to give to someone of my choosing. The note said: "Suivez-moi jeune homme Et vous connaîtrez tous mes secrets… ou presque. Which translates to: "Follow me young man And you shall know all my secrets… almost".
Such an alluring note!;) No wonder Eze gardens are so popular!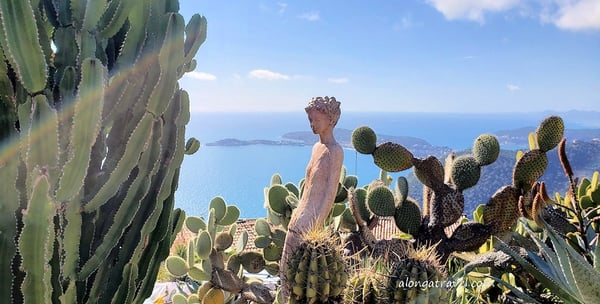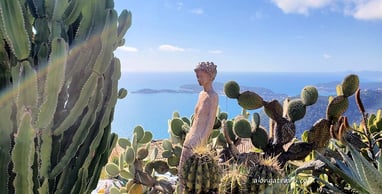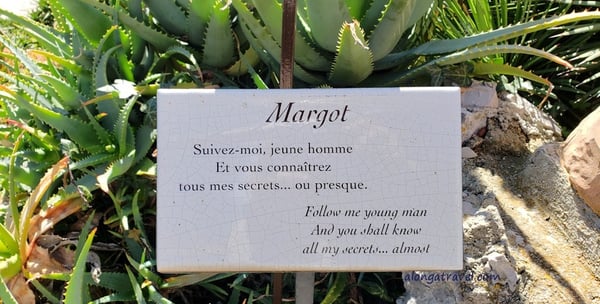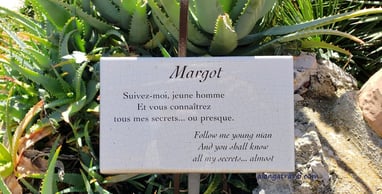 Vision boards work!
A similar picture of the view from this exotic garden, has captured my imagination so powerfully, that I made it my wallpaper on my laptop as my Vision board.
You know, that board where you put pictures of anything that inspires and motivates you? And then work on bringing pictures and statements from that board to life?
It kept me warm inside and hopeful on the days life seemed a bit dull and blue. Hopeful that I will visit it soon and see that incredible view for myself.
So, when I've finally visited, I was so happy! Happy that things we really really want come into reality, because we find the ways for them to happen.
So, yes, Vision boards work!:) Keep visualizing and hoping! Keep adding stuff to your board you want to happen!:) And you are welcome to add this picture to your board! Good luck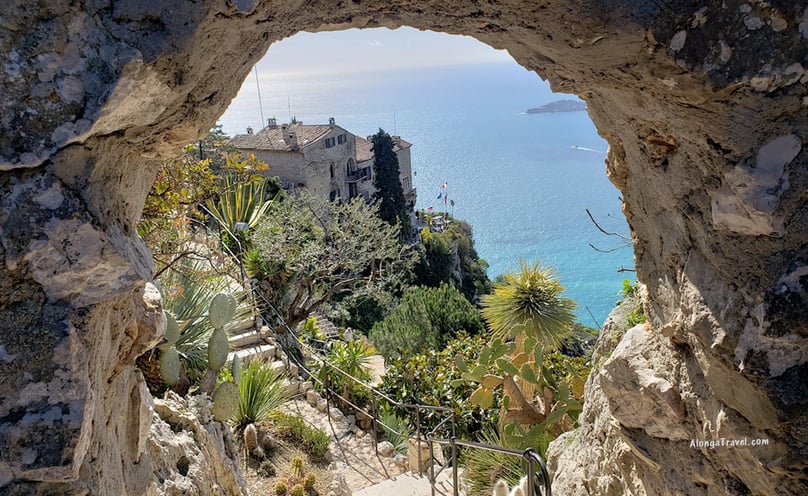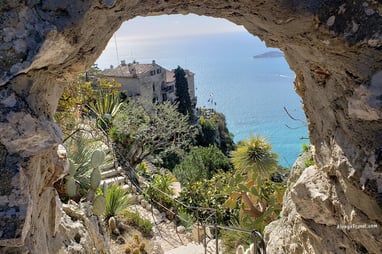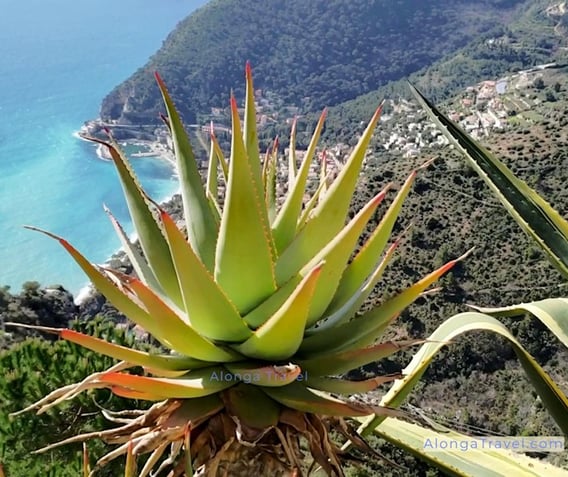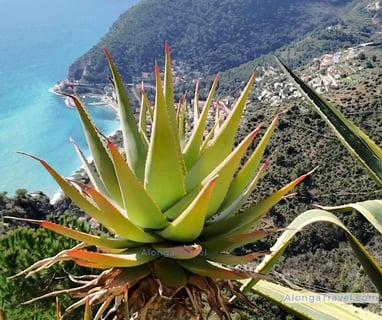 The collection of plants in Eze botanical garden in details.
The collection of plants in the Eze botanical garden is exceptional!
It might be a good idea to familiarize yourself with the type of plants you will see in Eze gardens before visiting to enjoy your visit of the gardens even more.
Agavaceae
There are about 270 recognized species of Agavaceae or agave in the world, and you can find quite a few of them in Eze exotic garden.
They are also called Asparagus family. A few members of this family are: agave, yucca and dracaena.
Here is a pictures of some agavaceae in Eze botanical garden. Here is a good website providing a database for gavaceae plants
an agave plant in Eze botanical garden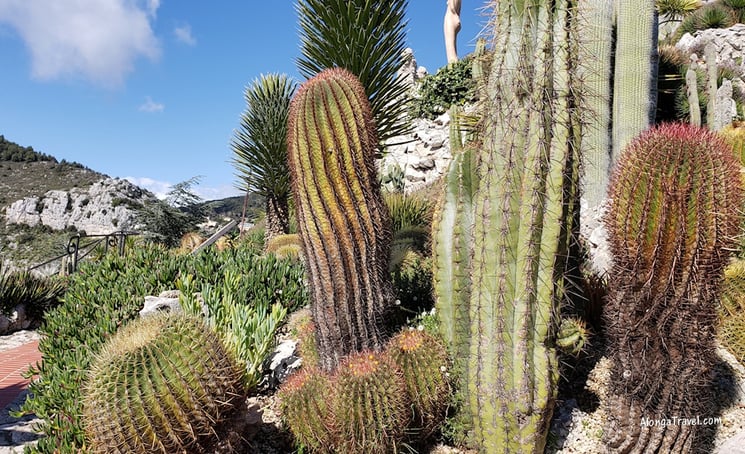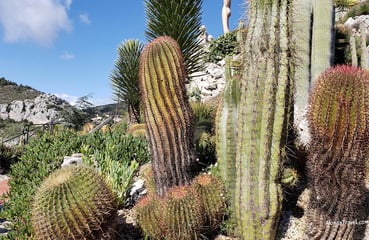 Grusonii plants
Echinocactus grusonii or Kroenleinia grusonii - is a large cactus of east central Mexico having golden to pale yellow flowers and spines and there are many of them in Eze botanical garden. They grow in a spiral pattern, and also known as the golden barrel cactus, golden ball or mother-in-law's cushion.
So many different names! The mother-in-law's cushion name of a spiky cactus is a bit concerning! :)
Read more on Echinocactus grusonii .
grusonii plants in exotic garden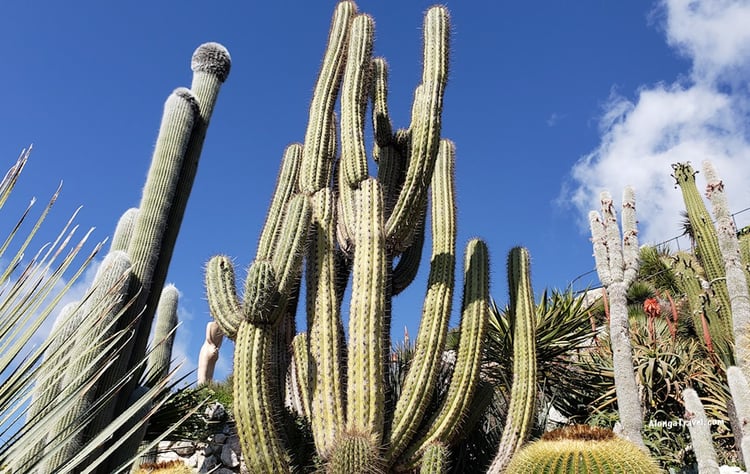 Cactaceae
The cactus family (Cactaceae) has almost 2000 known flowering plants, and is a group well represented in Eze exotic garden.
Here is a pucture of a few cacti. Look at this giant cactus! It was almost as tall as the ones I saw in Saguaro Cactus garden around Tucson.
Euphorbiaceae
There are a some euphorbiaceae or euphorbias in this exotic garden as well! They are located in the northern part of Eze garden. More about euphorbias is here.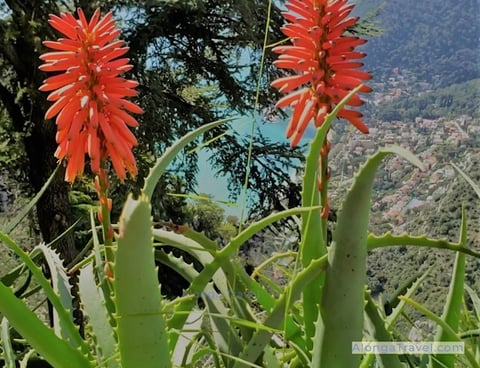 Crassulaceae
The Crassulaceae, also known as the stonecrop family or the orpine family, are a diverse family of dicotyledon flowering plants. You will find many crassulas in this exotic garden. More info about crassulaceae is here.
Aloe
Aloes are both used for medicinal purposes and are beautiful , especially when flowering, and there are many plants in Èze gardens.
Aizoaceae
The Aizoaceae, or fig-marigold family, is a large family of dicotyledonous flowering plants with about 1800 species and you will find lithops in Eze exotic garden. They are also often called stone plants and are grown as stones accents.
aloe plant in Eze botanical garden
Eze France map
If you plan to use the car, the address is: 20 Rue du Château, 06360 Èze, France.
WHAT CITY IS EZE GARDEN CLOSE TO?
Eze village and Eze Garden is located between Nice and Monaco.
HOW FAR IS EZE FROM NICE
Eze is 12 km, or 20 min away on direct bus ride, or 60 minutes ride taking 2 different buses. Learn which buses to take below.
HOW FAR IS EZE FROM MONACO.
Eze is 12 km, or 22 min away on direct bus LR112 ride from Monaco.
You don't need a car to get to Eze garden and village, you can just use public transport and take a bus.
HOW TO GET TO EZE EXOTIC GARDEN
Driving to Eze
If you still prefer to drive, take the parking cost for Eze village and the Garden into consideration.
Parking at Eze
Parking is not easy to come by during the high season. A new underground parking lot is currently being built, and as a result there are fewer parking spaces.
You can still find some parking spotr at the bottom of Èze village hill, on "moyenne corniche", behind the bus stop. The parking fee is 3 € per hour.
There is a cheaper way to park. If you drive up to the "grande corniche" you can park at well-marked parking lot and leave your car there for an entire day. Their costs is 6€ per day and the shuttle service to take you to Eze village or Garden is free.
The shuttle runs every 15 minutes. It also includes one free entrance to the exotic garden (a 4-6 € value, depending on the season).
HOW TO GET TO Eze FROM NICE usung public transport
You can use a direct bus 82, or bus 15 and then bus 83. Info on what's better; a direct bus, or a transfer bus for better views, is below.
Direct bus to Eze Direct hourly bus #82 will take you there in 23min.
Choosing Picturesque bus route to Eze.
Or you can take more picturesque route with a stop at Saint-Jean-Cap-Ferrat (really worth visiting as well!), but it will require 2 busses, #15 and #83, and take around 1 hour total. Regardless of which bus you take, the views on a bus ride will be spectacular and an attraction by itself! Sit at the seaside on the bus.
You can use a trip planner website LIGNES D'AZUR to plan your trip effortlessly. Here is a snapshot of an example time of departure with all the possible options for a public transport.
The bus stops for going to Eze garden:
From Nice: Plan the trip from fort Lympia – the port stop, to Village Èze.
HOW TO GET TO Eze FROM Monaco usung public transport
An hourly direct bus LR112 with a 22 minutes ride from Monaco will take you to Eze. The bus stops for going to Eze garden: Bus LR 112 leaves from Monte Carlo (Casino).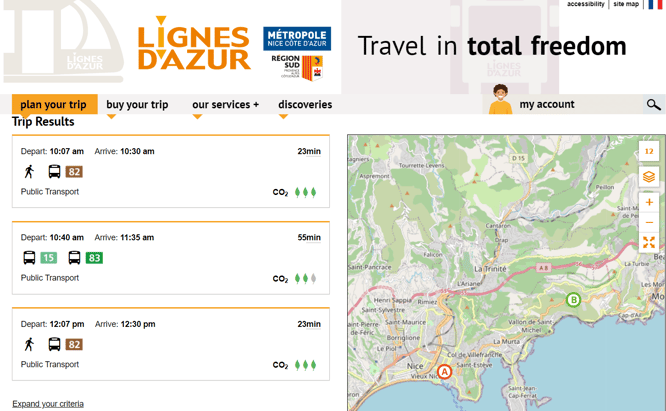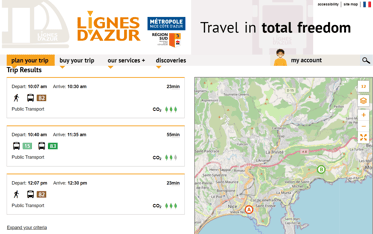 Here is an example of a route planned by Lignes D'Azur app
Èze bus ticket price.
You options are either a single ticket for 1.5 €, or a 24 hours pass for 5 €– which can be a better option if you are planning to return to the same city on the same day and use 2 buses to get there and 2 buses back. Or, if you stop somewhere on the way and get back on the bus.
24 Hours Côte d'Azur pass
24h pass to travel by bus or tram within the Métropole Nice Côte d'Azur area cost is 5 euro. It has a HUGE area of coverage, so you can get to many places in one day.
Buying the 24 h pass can be a cheaper option if you are planning to return to the same city on the same day and use 2 buses to get there and 2 buses back. Or, if you stop somewhere on the way and get back on the bus.
You can buy the 24h bus pass from a driver (but ask for it! Or he'll give you solo 1 journey ticket by default), or at the tram machine, or on your phone from the NFC app.
NFC NICE TICKET APP
NFC IS A MOBILE APPLICATION WHICH ALLOWS YOU TO PURCHASE TICKETS:
-SOLO 1 JOURNEY

-MULTI 10 TICKETS

-24H-PASS

-7-DAY PASS
Jardin Exotique de Èze hours.
The garden is open every day:
January, February, March, November, December: 9am-4.30pm. So, make sure you come early to have time for both the garden and Eze village.
April, May, June, October: 9am - 6.30pm
July, August, September: 9am - 7.30pm
Jardin Exotic Eze ticket price:

From November 30th to March 31st – 4 €
FROM APRIL 1ST TO OCTOBER 31TH - 6 €
· GROUP TARIFF* AND STUDENT TARIFF - 3,50 €
· CHILDREN UNDER 12 - FREE
· DOGS ALLOWED ON A LEASH
Useful info
Are Eze village and Eze gardens the same places?
Eze gardens are adjourned to Eze village. Provencal hill village of Èze, which is one of the prettiest in France, deserves its own blog post, which I will write soon.
Is drinking water available in Eze garden.
Drinking water is available in the Zen garden – keep this in mind for refilling your water bottle, as it's the only place for that on the hill.
Is it hot in Eze garden in summer.
Eze garden can get very hot in summer as there is no shade in most areas, but you can cool off in Zen garden, and then go to Eze village for a cold drink.
How long to spend in Eze
If you want to go to both Eze village and the gardens, then you need around 3 hours. Add another other for a meal in Eze village restaurant.
I hope you will visit it, I am so excited for you!
Let's connect on social media! The links are in the footer!