let's connect on social media

Why choose to visit Sintra National Palace on a one-day itinerary in Sintra, Portugal
Just one day to visit Sintra is not enough to explore all the wonders of this magical town. Yet if you only have one day in Sintra, you need to decide which palace to visit! There are at least 5 amazing palaces in Sintra to choose from, so you need more information to decide which palaces will be on your one-day itinerary!
Sintra National Palace is one of them and a must-see place on a one-day itinerary in Sintra!
Each room inside of Sintra Palace is exquisite and decorated in either Gothic, Manueline, Moorish, or Mudéjar style, depending on the time it was built, and the modern structure is an organic mixture of them all, creating an unforgettable experience!
Sintra Palace is my favorite palace, sharing #1 position with Sintra Moorish Castle, in capturing my interest. I want to introduce it to you, as it is a not to be missed place! You will enjoy it so much as it is very special!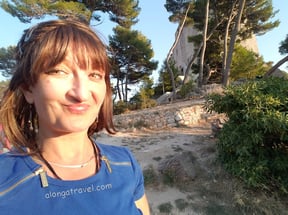 Hello, I am Tatiana. Nice to meet you!:) I am here to inspire people to travel alone and have a blast, while discovering beautiful destinations in Europe. If you would like to learn more about me, you can find it in ABOUT ME section of this blog.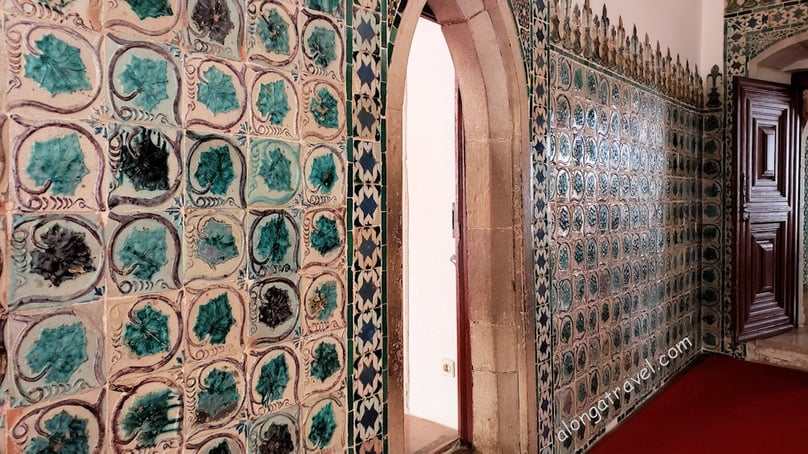 Azulejos throughout Sintra Palace rooms
Sintra National Palace, or Palace of Sintra, or the Palácio Nacional de Sintra, also called Palácio da Vila ("The Town Palace"), is the best-preserved medieval royal residence in Portugal.
It was inhabited continuously from the15th century to the late 19th century and now is the designated UNESCO World Heritage site.
Sintra Palace is located in the center of lovely Sintra town, and is recognized by 2 tall white cone-shaped chimneys. These tall conical chimneys are now a symbol of Sintra.

The Palace actually goes back to Moorish times from around 8th century and it was the residence of the Islamic Moorish Taifa of Lisbon rulers of the region.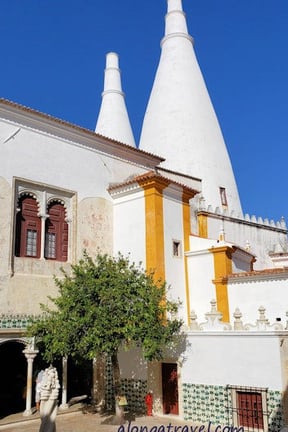 Is Pena and Sintra the same palace?
This is the question I hear often, so I would like to clear the confusion.
When people think about palace in Sintra, they usually think about more famous National Palace of Pena.
You can see pictures of colorful and exotic yellow and blue buildings of Pena Palace almost everywhere. And yes, the buildings are indeed very beautiful and you should definitely admire them from the outside!
So, no - Sintra and Pena palace is not one and the same!
Is Pena Palace worth going inside?
No, Pena Palace is not worth going inside if you only have one day in Sintra (or only 2 days).
So, if you only have one day in Sintra, save time by NOT going inside Pena Palace (which is just mediocre, compared to other palaces), and on time saved, visit Sintra Palace! Picture of Pena Palace below so that you understand which palace is which.
This might surprise you, as all other websites tell you to visit Pena Palace and go inside it. But that would take an entire day, as the line to see inside the palace is usually huge and will take hours of your day.
So, instead, you should go and see exotic and pretty buildings of Pena Palace from the outside and on saved time – visit Sintra palace!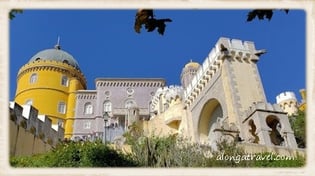 Here is THE OTHER palace, Pena palace. The one you should enjoy from outside only on a one-day itinerary to Sintra, and not go inside the Palace.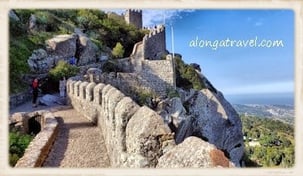 This is Castle of Moors Sintra or Moorish Castle. Another must-see!
Sintra Moorish Castle or Castle of Moors, which is located high up on the hill, overlooking Sintra Palace is another palace built in Sintra during those times. Both palaces are the best palaces to visit in Sintra in my opinion.

I have to say that Moorish people knew how to build their palaces! Each and single one of Moorish palace I went to all over Spain and Portugal was simply exceptionally beautiful! I am grateful that Spanish and Portuguese states keep them in such great shape!
I am explaining you about other palaces so that you can understand your options better. It's great to have so many palaces in Sintra! But it's hard to chose if you came on a one day trip to Sintra.
let's connect on social media

King Afonso Henriques 12th century additions to Sintra palace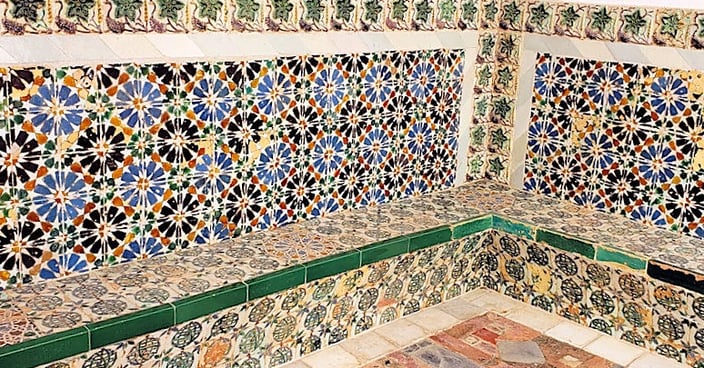 In the 12th century the village of Sintra was conquered by King Afonso Henriques, and fresh additions to the existing buildings have started.
Organic architecture of Sintra Palace
Because many rooms were added during a stretch of a few centuries under different rulers, it created an unusual and exciting mix of different architectural styles.
The is a blend of Gothic, Manueline, Moorish, and Mudéjar styles in the present Sintra palace after 11 centuries of fresh additions, wings and accents.
This blend of a few different architectural styles together is an example of organic architecture, which refers to a few different styles of architecture coexisting organically with each other, complimenting each other and acting both as a whole together, while keeping its distinguishable characteristics as an individual pieces.
The examples of organic architecture are rare, which makes Sintra Palace a very special place!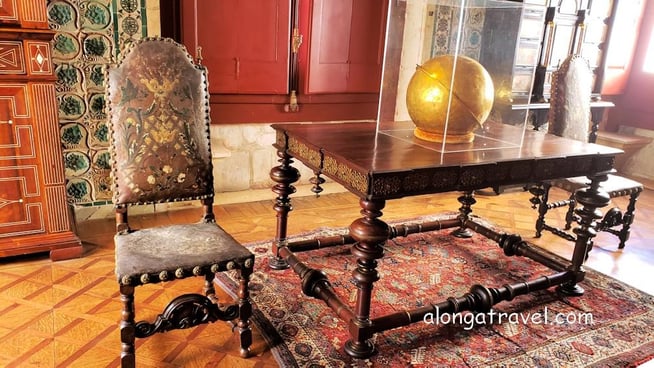 KING JOHN I MAJOR BUILDING CAMPAIGN OF 1415
in Sintra Palace
MOST BUILDING ADDITIONS TO SINTRA PALACE HAPPENED DURING KING JOHN I MAJOR BUILDING CAMPAIGN OF 1415.
What was built during
KING JOHN I MAJOR BUILDING CAMPAIGN OF 1415
Ala Joanina
The majority of buildings around the central courtyard - called the Ala Joanina (or John's Wing) – were built during that time.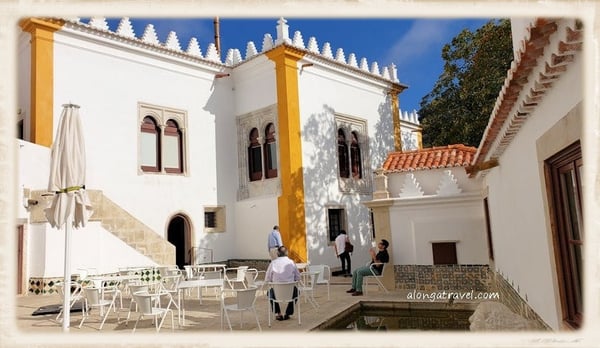 The main building with the entrance arches were built during KING JOHN I BUILDING CAMPAIGN OF 1415.
biforas
Moorish accents called biforas were added during KING JOHN I BUILDING CAMP, like the ones you see on the pic above.
The Swan Room (or Sala dos Cisnes) of Sintra Palace
The swan room of Sintra Palace, with the swans painted on the ceiling is, the largest room of the Palace, where the most important events, like celebrations and receptions, took place, was also built in 1415.
Even today official banquets for special occasion of visits by foreign heads of state are held here.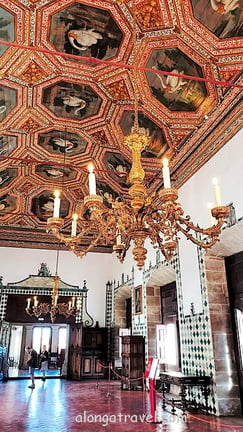 Magpie Room ( or Sala das Pegas
).
Magpie Room has the magpies (pegas) painted on the ceiling is another room built in 1415 building campaign . This room received the notables of the kingdom and foreign ambassadors. The tile decoration and the composition of the ceiling are quite remarkable. The south-facing window opens over the Sierra with a view of the Moorish Castle.
Patios: the early wing of the palace features courtyards embellished with tiles and Islamic style water pool.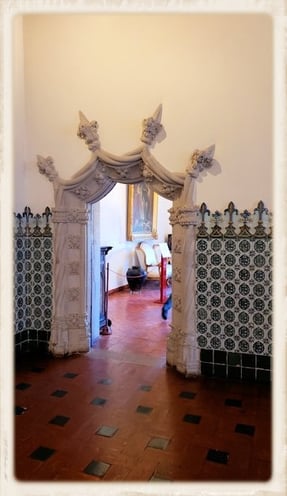 Sintra palace window decorated in Manueline architectural stile
Major building campaign by King Manual I between 1497 and 1530
The other major building campaign of the Sintra palace was sponsored by King Manuel I between 1497 and 1530. That was the time of the exploratory expeditions in the Age of Discoveries, which brought a transitional Gothic-Renaissance art style, named Manueline.
Manueline or Gothic-Renaissance art style of Portugal
The Manueline or Gothic-Renaissance art style is the Portuguese architectural style originating in the 16th century, during the Portuguese Renaissance and Age of Discoveries and voyages of Vasco da Gama and Pedro Álvares Cabral.
This unique style blends aspects of Late Gothic Flamboyant architecture with original motifs and influences of the Mudéjar and Flemish architecture. It marks the transition from Late Gothic to Renaissance.
Age of Discoveries brought the lucrative spice trade with Africa and India. The proceeds of that trade were used for the construction of churches and monasteries in Manueline style all over Portugal.
Here is a picture from Sintra palace window to illustrate this Manueline style.
The famous Geronimo Monastery is another wonderful example of this Manueline style.
let's connect on social media!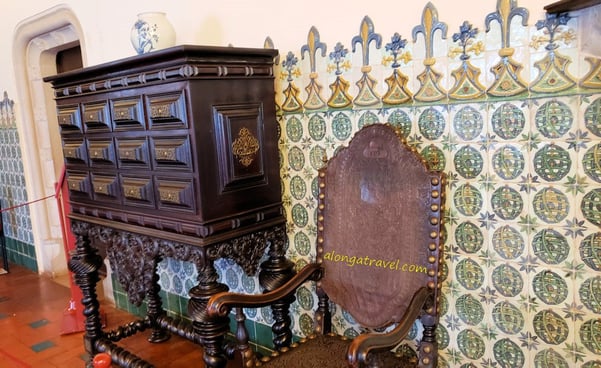 Mudejar architectural style.
At the same time there was a boom of Islamic artistic influence in Portugal, called Mudéjar, which reflected in the use of azulejos,
Mudéjar art, also known as Mudéjar style, is a type of ornamentation and decoration used in the Iberian Christian kingdoms, between the 13th and 16th centuries. It was usually applied to older architectural styles as ornamental and decorative motifs.
Mudéjar was originally the term used for Muslims of Al-Andalus who remained in Spain and Portugal after the Christian reconquered Muslim controlled territories in the Middle Ages. Those Muslims were not initially converted to Christianity or exiled. So – Mudejar means "tamed", referring to Muslims who submitted to the rule of Christian kings. The term Mudéjar can also be translated from Arabic as "one permitted to remain".
Now, in terms of architecture, Mudejar brough us such gems as Alhambra in Grenada, Spain.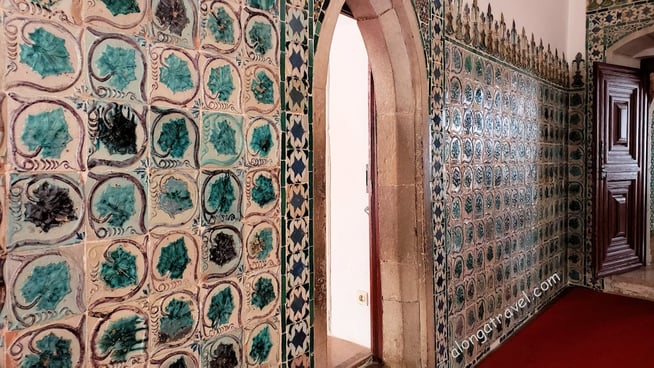 Azulejos in Sintra Palace
King Manuel redecorated most rooms with azulejos, which he ordered from Seville. These azulejo tile made numerous panels with Mudéjar motif.
Azulejos are lavishly painted polychromed ceramic tiles. The main purpose of azulejos was to keep buildings cool during hot weather, while being very pleasing to the eyes.
Azulejos in Sintra palace were also used for creating magnificent tile panels.
King Manuel saw to the construction of the Ala Manuelina, Manuel's Wing. It is located to the right of the main façade, decorated with typical manueline windows.
Patios: the early wing of the palace features courtyards embellished with tiles and Islamic style water pool.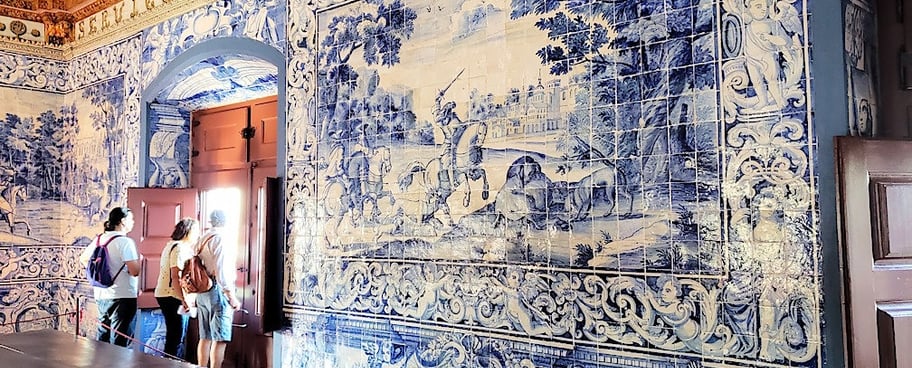 azulejos in Coats-of-Arms Room Sala dos Brasões Sintra Palace
Coats-of-Arms Room (Sala dos Brasões)
King Manuel also built the Coats-of-Arms Room (Sala dos Brasões) (1515–1518), decorated in Manueline style with a magnificent wooden ceiling with 72 coats-of-arms of the King and the main Portuguese noble families. This is the most impressive room in the Palace and one of the most significant heraldic rooms in Europe.
The azulejos in this room were added in 18th-century.
I have to say that I don't think I have ever seen a room as impressive as that one!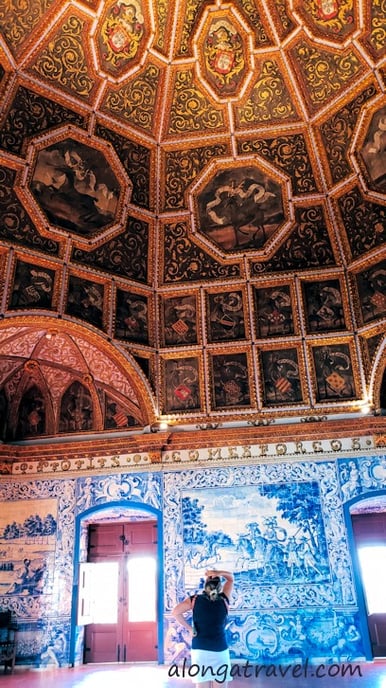 Arab Room (Sala dos Árabes)
Another outstanding room built at that time in Sintra Palace is the Arab Room (Sala dos Árabes). It is a tiled room with a Moorish style fountain in the center.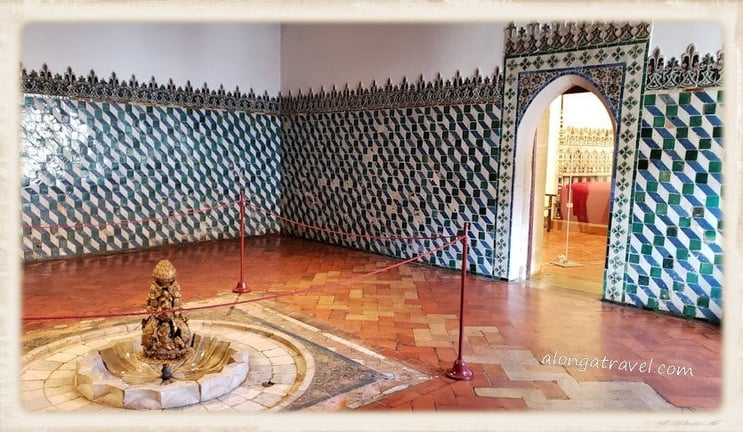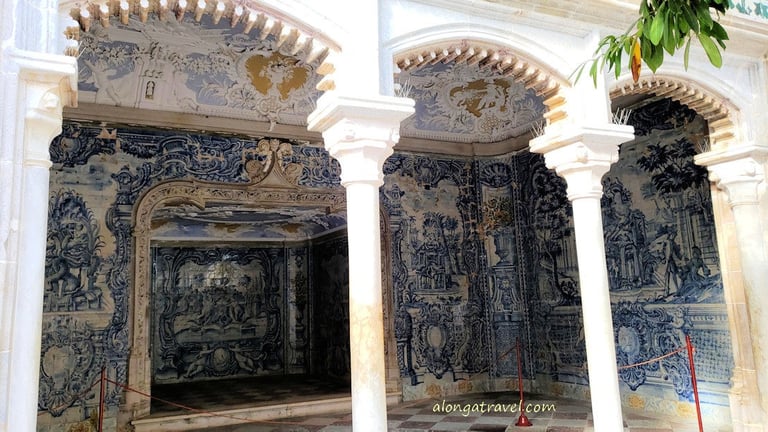 Grotto of the Baths in Sintra Palace
The adjacent to central courtyard is "Grotto of the Baths" features tiled and stucco decoration from the 18th century. There are some magnificent tile panels there and stucco ornamentation representing the Creation of the World.
The blue and white tiled wall panels represent fountains and gardens.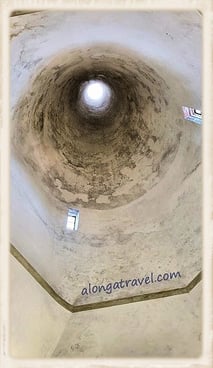 When were the kitchens in Sintra palace built?
In the old times sharing meals with their subjects was one of the fundamental functions of the king, almost as important as providing justice and protection. When a palace was located away from a city, hauntings were the main source of food. So, the need for large and well functioning kitchens was tremendous.
Its kitchen's gigantic 33m(108ft)-high conical chimneys, added in the 1300s, are Sintra icons, while much of the interior and the windows on the façade date from a later period, the early 1500s, when King Manuel I decided to beautify the building.
The kitchens of Sintra implemented a significant innovation for the 1300s – very tall (33 meters high) chimneys that tapper as they reach upward. Because of this shape these chimneys created an exceptional exhaust force, keeping the kitchens smoke free. Now these two tall cone-shaped white chimneys are landmarks of Sintra.
Sintra Palace in 17th and 18th century
In the following centuries Kings continued to inhabit Sintra Palace from time to time, also ordering some new decorations, some paintings or furniture for the Palace, but nothing major.
The was one dark mark in the history of Sintra palace happened when the mentally unstable King Afonso VI, was forced to live in his bedroom in the medieval section of the Palace, without leaving the residence from 1676 until his death in 1683.
Sintra Palace suffered damage after the 1755 Lisbon earthquake, but was restored in the original manner. The biggest loss to the great earthquake was the tower over the Arab Room, which collapsed.
At the end of the 18th century, Queen Maria I redecorated and redivided the rooms of the Ala Manuelina.
Modern times in Sintra Palace history
During the 19th century, Sintra became again a favorite spot for the Kings and was used frequently. With the foundation of the Republic, it became a national monument tin 1910. In the 1940s, it was restored and old furniture from other palaces was added. The magnificent tile panels were restored as well during that time. It has been an important historical tourist attraction ever since.
And it's waiting for YOUR visit!:)
Other Palaces around Sintra worth seeing: attractions nearby
Here is the top 5 of the places to visit in Sintra.
Quinta da Regaleira
Pena National Palace (Palácio Nacional da Pena)
Moorish Castle (Castelo dos Mouros)
Chalet and Garden of Condessa d'Edla.
Monserrate Park and Palace (Parque e Palácio de Monserrate)
Let's Orient Ourselves On the Map Now.
Where In Portugal Is Sintra?
Sintra Portugal, the Lisbon District of Portugal, is located 30 km North West from Lisbon, or 1 hour train ride.
While it is located only 14 km from the Atlantic ocean, it takes 90 minutes by public transportation. It only takes 20 minutes to ride by car. Do NOT come on a car because of a parking problem!
Where Is Sintra National Palace Located?
Sintra Palace is located right in the town center, a short 10 minutes walk from Sintra train station. Arriving on a train or bus is by far your best bet as finding parking anywhere in Sintra is impossible. It will create you unnecessary stress and it will take away from your enjoyment for sure!
Visiting the Sintra National Palace: Hours, Address
Hours: Open every day
9:30AM–6PM
Largo Rainha Dona Amélia, 2710-616 Sintra, Portugal
+351219237300
https://www.parquesdesintra.pt/pt/parques-monumentos/palacio-nacional-sintra/

How much does it cost to visit Sintra national palace (palácio nacional de sintra) 2021?
If you buy from their website you will pay these prices. If you pay at the site, it's 10% more.
Adult (18-64) - 9.50 €
Youth (6-17) - 8.08 €
Senior (65+) - 8.08 €
Child (<6) - 0.00 €
Family (2 Adults 18-64 + 2 Youths 6-17) - 31.35 €

How long to spend in the Palacio de Sintra?
Expect to spend around one hour, minimum. It's much less crowded than Pena, so you don't have to rush to it. It's recommended that you make it your last stop in town, before heading back to the train station if you're visiting Sintra on a day trip.
Let's connect on social media (links below).
And if you need help with creating a custom itinerary for you, please email me