FEMALE SOLO TRAVEL: HOW TO HAVE A SAFE and COMFORTABLE and FUN TRIP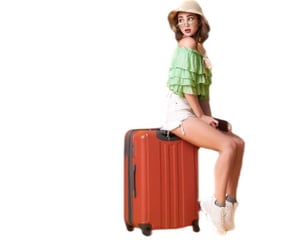 I am not going to convince you to travel solo on this page. I hope I already did that on my "start here" page! So, we already know why travel alone and how it will be lots of fun!:)
However, female solo travel is objectively has some uniquely specific differences, compared to the male solo travel.
The main specifics of the female solo traveling
The main specifics of the female solo traveling are emphasis on safety and comfort. All other aspects are the same as for any other traveler.
· Prepare in advance well. Print out your itinerary before leaving.

· Arrive with a small carry-on. Pack smart!

· Bring comfortable and light travel gear and clothes with you.

· Book social accommodation even if you can afford your own room. This Is an Antidote to Loneliness.

· Don't rent a car, use public transport or a cab, and use mobile apps for directions. Know your map and public transport options in advance.

· T-Mobile works anywhere for free or get a sim-card to stay connected.

· Arrive before dark during the daylight hours.

· Make friends at a hostel (hostels are for all ages &incomes now) or on a walking tour

If you plan to visit attractions and museums, buy the city card at the airport.

Eat at Food Markets in Europe. It's more fun, cheaper and you will feel better.

· Go easy on alcohol.

· Sign up to a meetup group or a Facebook group for your city of travel. If you go out - a live music venue or a concert is the safest choice.

· Have fun!:)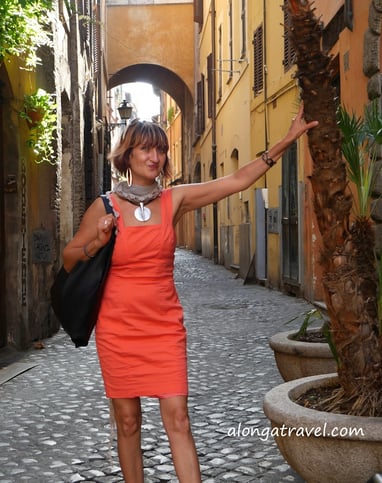 Hello, I am Tatiana—an architecture addict fascinated with beautiful old buildings and discovering the gems of Europe. Check out my comprehensive travel tips and reviews of the best European destinations and city breaks. Let's connect on social media!
Before diving into details about how to have a safe and comfortable time traveling solo as a female, let me highlight some fun parts of your adventure.
Join fun public events you see
The events I get into by jumping into fun looking public events I see! There are all kinds of public carnivals you may encounter during your trip (or maybe even time your trip for them!), to have a great time! You could encounter live music events, or maybe public Zumba events, and other public dancing, like salsa dancing on the streets of old town Nice at night.
I even got into a political event once, swept in by the energy!:) That was in Barcelona…
Now, if you're thinking that events are only for extroverts, you might be mistaken! I am both introvert and an extravert, depending on circumstances and times.
And I have noticed that it is very comfortable to be an introvert during events like that! You don't have to talk to a single person, you just walk with the crown and consume the strong and exciting energy. That's the easiest and the least draining way to participate in social activities for introverts!
Or you can just talk to everyone around you as people are more relaxed and outgoing during these kinds of events, so you will connect with people, and even make new friends! You will start feeling very connected to the city you are in!
Just use your common sense about what is safe and what is not!
This video is about a public Zumba event on the streets of beautiful Dubrovnik. I thought that was a brilliant idea! And it sure was fun!:)
Alright, there will be lots of opportunity for you to have fun on your trip, but for now let's talk about preparations to take before the trip.
Preparation for Solo Female travel
Prepare in Advance Well. Print out Your Itinerary Before Leaving.
I've already talked about how guys will throw a few things in their bag last minute and will fly to a city knowing nothing about it. They will go out, do some exploration, but they would miss a lot of fun things to see... Most likely.
However, you should absolutely NOT do the same! :) You will come PREPARED and feeling great and safe, knowing you're all prepared!
Before you leave - type your itinerary, all the names of your hotels, which company you booked through, your flight info, which cities you arrive on, which dates and times, and send a copy to your loved ones at home. Print your travel itinerary out and have it with you in case you lost your phone. It's quite a job, but what are you supposed to do without your phone if this happens? Or when the reception on your phone is too weak and you can't even load a page or a map? So, just to be on the safe side…
Arrive With a Small Carry-on. Pack Smart!
You will travel with a small light carry-on, as I have shown you how to pack. In your carry-on you will have many things to make your trip and stay very comfortable. (examples are here). Most of us, women, require more items to be comfortable than guys do. But you will do yourself a HUGE favor if you only bring the items you absolutely need, and nothing else.
Packing light the right way and having everything you need and not one item extra, and having all the lotions, shampoos etc. in tiny bottles is both a necessity of female solo travel, and should be taught in colleges with awarding an advanced degree after the graduation!:)
It WAS taught in Harry Porter's academy as a spell and Hermione mastered it well! I am ALOMOST as good as she was by now, and you will be as well, if you follow my advice!:)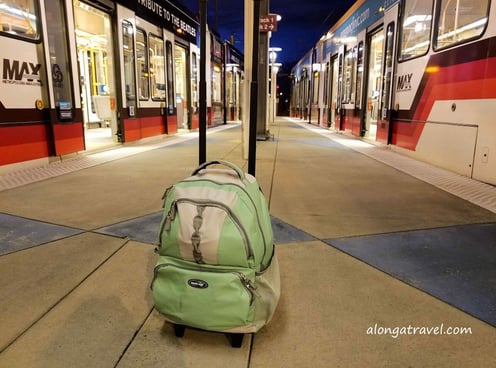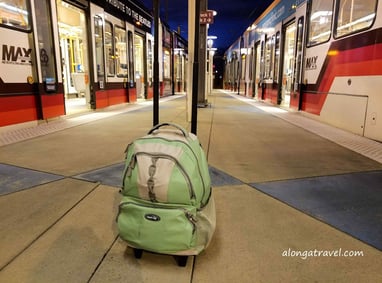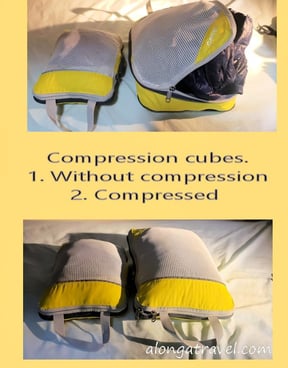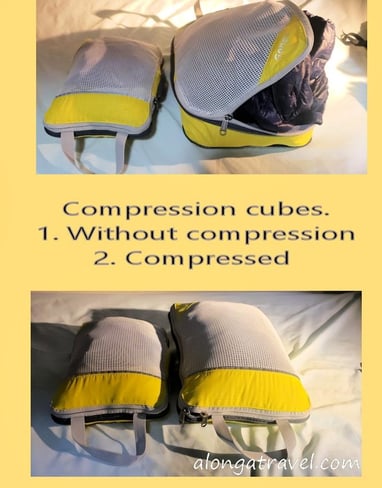 Book Social Accommodation Even if You Can Afford Your Own Room. This Is an Antidote to Loneliness.
You need to research which area of the city is safe and ONLY stay there.
To save on your accommodation AND not to feel lonely, stay at social accommodation. It could be a nice hostel, female only room. Choose the one that has great reviews (more research!) and has privacy curtains. Good hostels are in the best parts of a city, close to all the attractions. You will make friends there (if you want) to go explore the city at night. So here is another advantage of a hostel.
More on why hostels are not just for the youth and backpackers anymore, and how people of all ages, professions, and incomes stay there now, is HERE.
Some people prefer to book a room from a female host instead. Your host will most likely give you info on where to go to explore, but it's unlikely she will go out with you. So chose your accommodations accordingly.
You can always book a room in a hotel, but it will be more expensive and lonelier.
Why wouldn't you want to come from the day of wondering alone to a great dinner and lots of laughs with your new hostel mates, like captured on this video from the dinners we were having every evening in Lisbon!?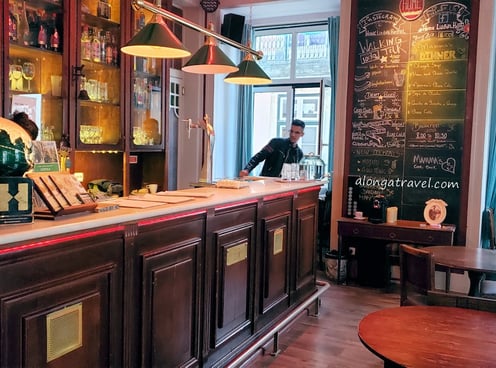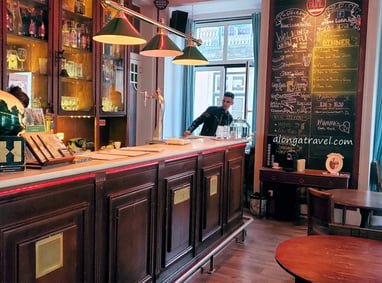 Arrive Before Dark.
Always plan to arrive in your city before dark. Unless it's a really large city, like Rome, or Barcelona, and you will be staying at a safe area. Still—arriving during the daylight keeps things safer and works better in case there are some problems with your check in. Keep in mind, there could be problems with a check in, if you book anything but a large hotel or a large hostel, where they will have 24 hours reception.
Booking anywhere else will require a prior agreement with your host about your time of arrival. And sometimes the host is late—so again, arriving during the daytime is just a safer option.
Make sure you confirmed your reservation, especially if you arrive late!
This sounds obvious, but I almost got stuck in New York once at night without a place to stay, as my hotel didn't get my reply email and canceled my reservation. And New York is NOT a great a place to walk at night alone and pretty booked for any affordable accommodation without an advanced booking . Luckily, I was persuasive enough to make them find one last room for me. But this event and the feeling of being very vulnerable had definitely taught me the lesson!
So, it is very important to make sure you confirmed your reservation either by phone or email, AND received the reply to your reservation request. Do not just assume they have received your email!
Don't Rent a Car, Use Public Transport or a Cab, and Use Apps for Directions.
Another absolute must do is to research how to get to your booked place in advance. Plan to use public transport if you are going to Europe. Otherwise, you will pay around 30-50 euros to get to the city from the airport by taxi. Most airports have buses running to the main square of the city for around 5-6 euros. There are ways to book online and it can be cheaper.
Once in the city check citymapper or Moovit app, which you will download at home, along with offline maps for Google maps. Google map works in many places as well, but sometimes it will get you lost. Use Google map and Rome2Rio website to research in advance which public transportation you need to take to get to your hotel AND make screen shots on your phone in case wi-fi of the network is not working. Yes, that happens!
Always have extra external power batteries for your phone .
I can't think of any other item more crucial to your safety on your trip other than your phone and extra batteries to recharge it! Your phone is your navigation source, your hotel conformation source, your tickets display. If there are only 2 items you are allowed in your bag for your trip, your phone and an extra battery with all charges and cables would be it!
If you Plan to Visit Attractions and Museums, Buy the City Card.
The city card will save you money and it usually comes with a free public transportation use. It's just less hassle besides saving you money. Every single city card I have checked saved me money compared to me paying for each attraction separately.
Getting your hotel information in details is the only info you really NEED before you leave. The rest you can handle later. Not a biggie if you miss some attractions because you didn't know they existed, but knowing how to get to your hotel and how to get between different cities, if you have over one city, is a MUST! Having all the train, plane, bus tickets in advance will save you a lot–tickets are usually 3 times more expensive on the day of departure.
So now that you're all settled in your accommodation, let's talk about what to do and not to do in the city. And I am not talking about attractions here.
what to do and not to do in the city on a Female solo trip.
Eat At Food Markets. It's More Fun, Cheaper and You Will Feel Better.
Where are you planning to eat? There are options. If you're not worried about saving money, you will find a place to eat with no problems. It might be better for you to sit at the bar, though. Sitting alone at the table could be a lonely experience, besides you won't have to wait for a table this way and you most likely will have someone to talk to if you feel like chatting.
Eating at the restaurants all the time can cost more than your air ticket and hotel combined. So, if you would rather save money for another trip, you can either eat at the Market, where they have a variety of choices or the deli department of a supermarket. Add to that stop at a tiny local bakery and fruit stores you will find anywhere, and you will have decent meals for about 10 euros per day total. That will also include water and bottled alcohol, if you're not too picky about your wine.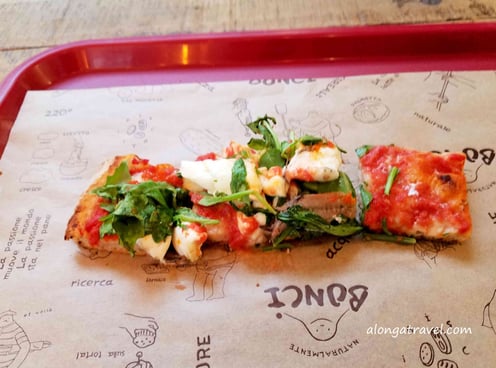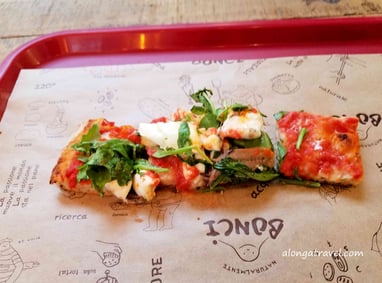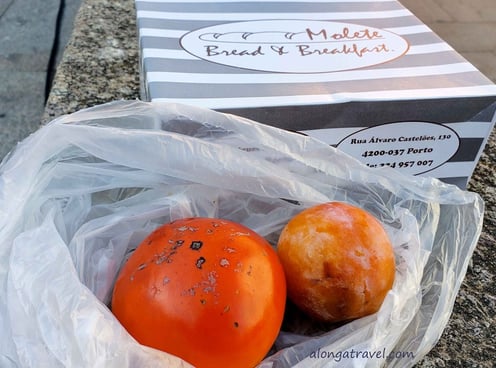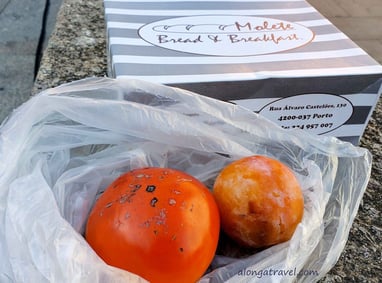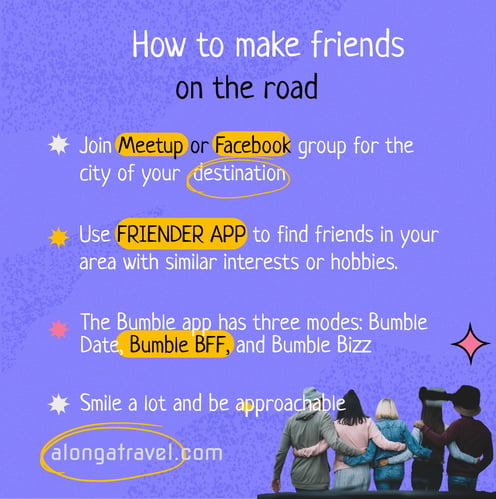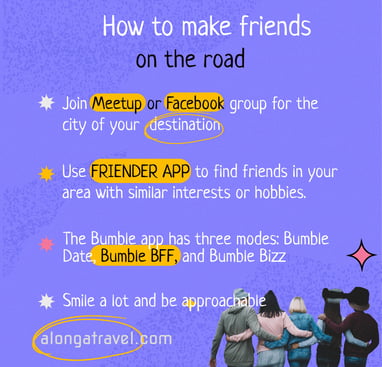 Make friends On The Road
If you think you will appreciate some company on your trip—sign up to a meetup group or a Facebook group for your future travel city. They usually do some events you could join. If you go out - a live music venue or a concert is the safest choice. Some hiking events are great for that! Just make sure you joined the right hiking group, with the right level of difficulty, they are very fussy about that!
Or use dating apps to find friends. Below are two most popular ones.
What are the popular dating apps to find friends out there?
The Bumble app has three modes: Bumble Date, Bumble BFF, and Bumble Bizz. Choose whichever mode suites you the best.
FRIENDER APP can be useful for finding friends in your area with similar interests or hobbies.
I meet new people who become fast friends during my travels all the time, and I rarely even go to pubs when travelling! Just be friendly and approachable if you feel like talking to people and smile a lot.
Drink Alcohol in Moderation on Your Trip.
Speaking of alcohol… It's a great idea to drink moderately! And only do day drinking. Yes, you're on vacation, it's OK to drink moderately during the day😊. Just don't drink at night, perhaps? You need to be in your best senses, traveling alone.
Go to live music events
You can never go wrong with live music. Live music is my other passion, besides traveling. People who perform and go there are fun and nice! You'll have a great company for the evening and you don't have to stay there too late. Leaving earlier is safer!
Get travel insurance
And last, don't forget your travel insurance!
World Nomads travel insurance is very popular and trusted by Lonely Planet and others. I recommend it as well.
Have a fun trip!:) And let's connect on social media, the links are below.